Mohan Thal
हिन्दी में पढ़ें
Mohan Thal is a very famous sweet from Gujarat. North India it is also know as Besan ki barfi, while in English it is called as gram flour fudge. It is made with gram flour, pure ghee( clarified butter) and sugar syrup. In North India it is also know as Besan ki barfi. For Ganesh Charurthi let's make this dessert for Lord Ganesha's offering.... ..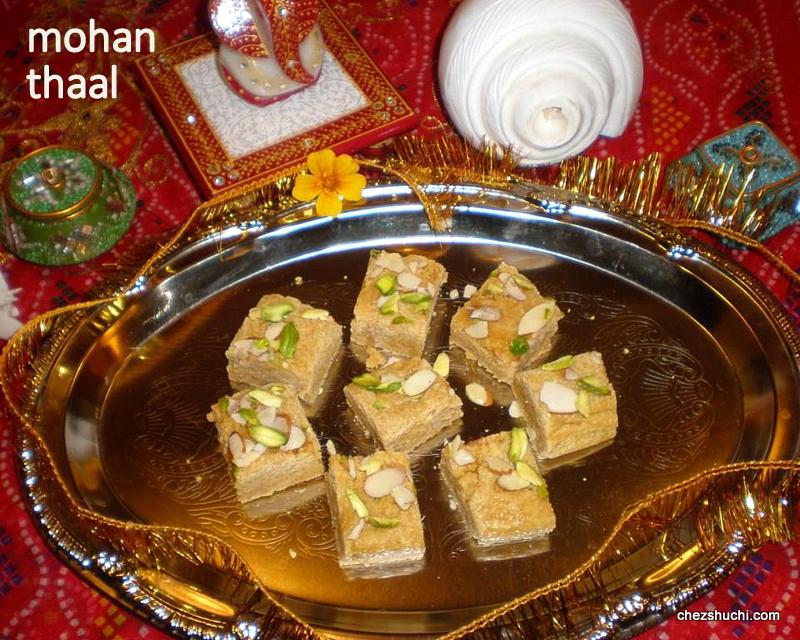 Ingredients

(makes 16)
Besan (gram flour) 1 cups
Pistachio 5-7

Almonds 5-7

Green cardamoms  2

Ghee 1½ tbsp+ ¼ cup

Milk 1 tbsp
Sugar ½ cup
Water 1/3 cup
Method of preparation
Finely chop pistachio and almonds. Keep aside.
Remove the outer skin of the green cardamoms and ground them in the mortar. Keep aside.
Grease the tray, plate or a small thali and keep aside.
Sieve the besan (gram flour).
Mix 1½ tbsp hot ghee in the beasn. Now add about 1 tbsp warm milk in the besan and mix very well with the fingers.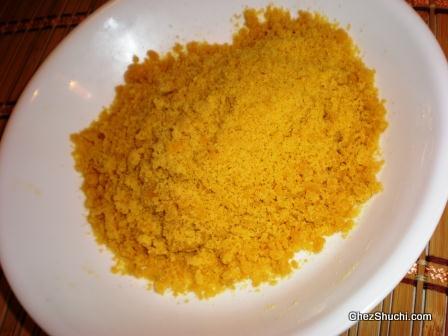 beasn after adding ghee and a little milk
Sieve this besan mixture with the soup sieve.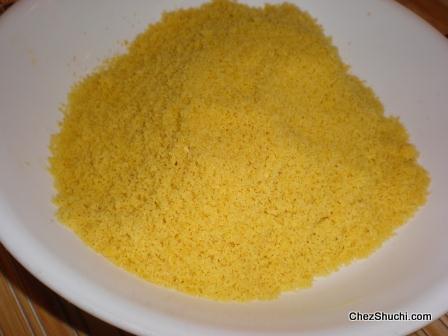 beasn after sieving
Boil sugar and water in a pan. After the first boil reduce the heat and boil the sugar syrup till it gets thickened and makes two string syrup. Two string syrup means that you take a drop of syrup between your two fingers and then stretch the fingers - if the syrup that sticks between the two fingers is making two threads (or strings) then the thickness of syrup is appropriate. Takes about 3 mins. Add ground cardamons.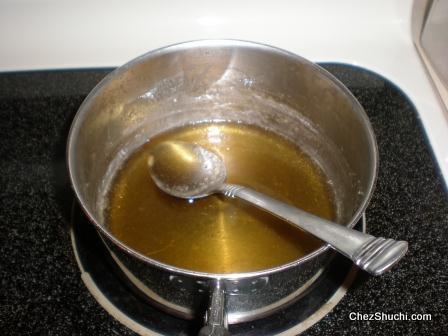 Heat ¼ cup ghee in a wok, add besan . Fry the besan on low heat until you smell a nice aroma and besan gets a nice golden color. Stir continuously. (takes around 10 minutes).
fried beasn
Add warm sugar syrup in the fried besan and keep stiring until the syrup is mixed in the beasn and it leaves the sides of the pan.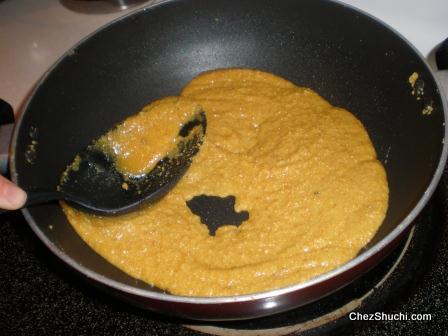 after adding sugar syrup in the beasn
Transfer the mixture on the greased tray. Flatten it and sprinkle the finely choped almonds and pistachio.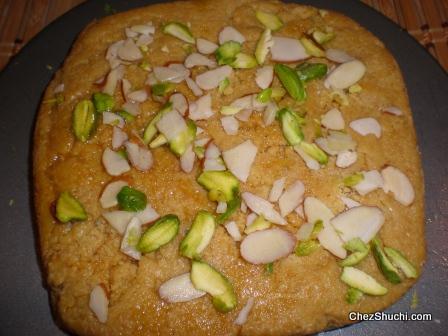 Let the mixture cool down. Cut the burfi in desired shape.
Delicious Mohan Thal is ready to serve. These dessert can be stored in airtight container for a month.
Some Tips/ Suggestions:
Fry beasn on low heat.
---