Mix Veg Raita
हिन्दी में पढ़ें
Mix vegetable raita goes very well with plain paratha. It can also be served with dal and rice.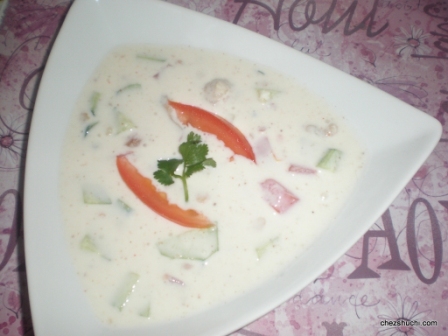 Ingredients

(Serves 4)
Yogurt  250 gms
Chopped Cucumber 1 tbsp
Chopped Onion 1 tbsp
Boiled & chopped potatoes   1 tbsp  
Chopped tomato 1 tbsp            
Chopped Coriander leaves     1½ tsp

Salt      1 tsp
Red chili powder ¼ tsp
Roasted & grounded cumin   ½ tsp
Method of preparation
Beat yogurt in a glass bowl. Add salt .
Add chopped cucumber, onion, potato and tomato in the beaten   yogurt.
Add red chili powder and grounded cumin in the raita .

Keep the raita in the refrigerator for ½ an hour.
Garnish with chopped coriander leaves at the time of serving .
Some other Yogurt Preparations
---