Matar Mushroom
हिन्दी में पढ़ें
There is a wide range of edible mushrooms which grow in soil. We have used the most commonly found mushroom called as white or button mushroom. These days mushrooms are very commonly used in Indian cooking and are easily available in regular vegetable markets. I remember when I was a child, mushrooms used to come in tin packs only. This recipe is for a spicy treat of mushrooms and peas....On readers' special request let us make matar mushroom...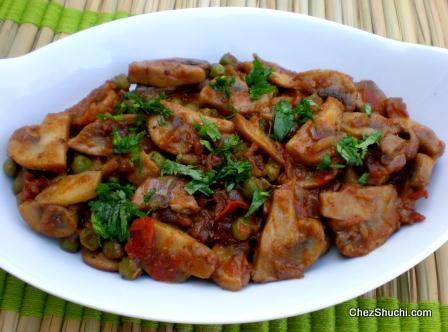 Ingredients

(serve 4)
White Mushrooms 250 gms
Greep peas ½ cup
Onion 1 Medium
Tomato 1 Medium
Green chilies 2
Coriander powder 1 tsp
Red chili     ½ tsp
Salt    1 tsp
Garam masala ½ tsp
Lemon juice 1 tsp
Oil 2½ tbsp
Chopped coriander leaves   2  tbsp
Method of preparation
Wash and cut the mushrooms in length.
Wash the peas and keep aside.
Peel off, wash and finely chop the onion.
Remove the stem, wash, and finely chop the green chilies.
Wash and cut the tomatoes into small pieces.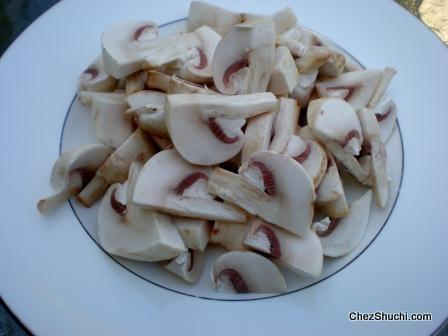 In a wok heat about ½ tbsp oil on medium heat. Now fry mushroom pieces for 2-3 minutes or until they are soft. Turn off the heat and keep mushrooms aside.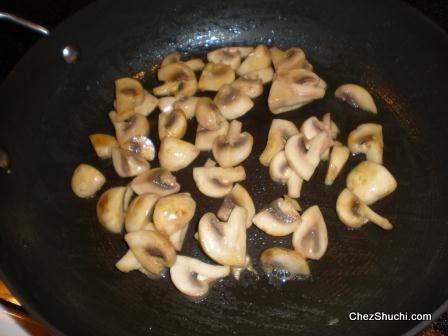 Now in the same wok heat about 2 tbsp oil. Add onions, and fry until golden golden brown (takes about 4-5 minutes). Now add tomatoes, and chopped green chili. Mix well. Add red chili powder, coriander powder, and salt. Fry until masala leaves the sides of the pan. (take about 4-5 minutes)
Now add green peas and mushrooms, and garam masala. Mix well and add about ½ cup water. Cover the lid and cook for 2-4 minutes.
Turn off the heat. Add lemon juice.
Garnish with chopped coriander leaves. 
Delicious matar mushroom is ready. Serve with Rotis or Paratha.
---