Mango Pineapple Smoothie
हिन्दी में पढ़ें
Smoothies are fruit drinks made with fresh fruits and yogurt/vanilla ice cream. These are absolutely smooth drinks - thicker than milk shakes. Smoothies are healthy drinks and very popular in the United States.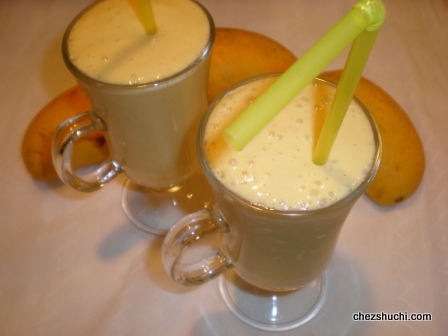 Ingredients

(makes 4)
Mango pulp 1 ½ cups
Pineapple chunks 1 ½ cups
Milk ¾ cups
Vanilla ice cream 1 cups
Sugar 2 tbsp
Method of preparation
Keep mango pulp and and pineapple chunks in the freezer for about half an hour .
Blend mango pulp, pineapple chunks, milk, vanilla ice cream, and sugar all in the blender.

Delicious smoothie is ready to serve.  
Serve any time.  
Tip: Use Fresh mangoes instead of pulp, if available .
Use brown sugar.
In smoothies ice is not used; instead, chilled fruits are used.
---