Mango Pana
हिन्दी में पढ़ें
Mango pana is a raw mango preparation with combination of the mint and coriander leaves. This is a fat free, cholesterol free, and zero calories drink. This drink can be used as the flavored water (golgappe ka pani) for pani ke batashe.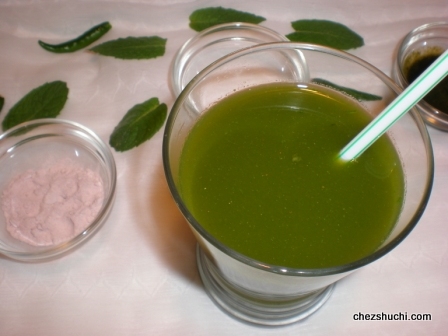 Ingredients

(makes 4-6 servings)
Raw mango  1
Chopped coriander leaves ½ cup
Mint leaves  1 cup
Green chilies 2-4
White salt   ½ tsp
Black salt ½ tsp
Roasted and ground cumin 1 tsp
Water about 3 cups



Tip- Sometimes the mango we find in the western world are not as sour as Indian raw mangoes, in that case add 2 tea spoons of lemon juice to get the delicious flavor.


Method of preparation
Remove the chip of the mango, peel off and wash it thoroughly.
Cut the mango in pieces. Take one cup water and boil the mango with the seed until it becomes tender or take one whistle in the pressure cooker.
Squeeze the mango seed to take the pulp out , keep the pulp aside and let it cool.
Wash the mint leaves. Remove the stem of green chilies and wash them. Make a fine paste of coriander leaves, mint leaves & green chilies in the blender. Add about 2 cups of water.
Now add black salt, white salt, and roasted cumin powder. Add  mango pulp and blend for a minute. Add more water if needed to get the right consistency.
Keep in the refrigerator for an hour.
Serve cool Pana in the hot afternoons of the summers. For a variation some boondi can also be sprinkled on top while serving.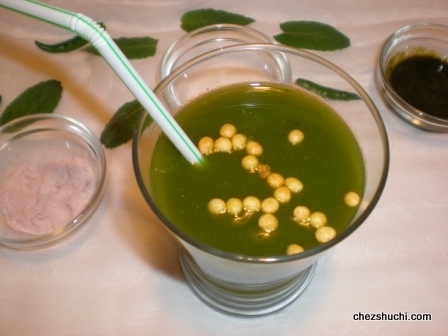 Tips/ Some Suggestions:
Instead of adding water, you can keep concentrated Pana mixture in the refrigerator, and add water at the time of serving also.
---