Lauki Ki Kheer
हिन्दी में पढ़ें
Lauki or bottle gourd is a vegetable which is eaten in many of the families in the days of fasting. Lauki ki kheer is traditional dessert made all over India. Here I am writing my version of recipe of Lauki ki kheer which is very yummy in taste and is a perfect offering to Lord Krishna.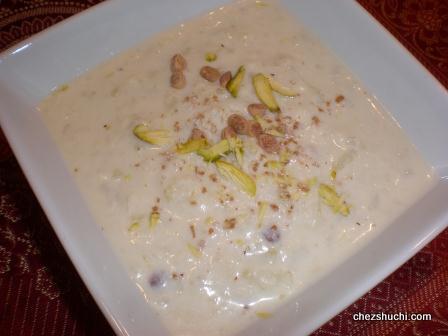 Ingredients

(serves 4)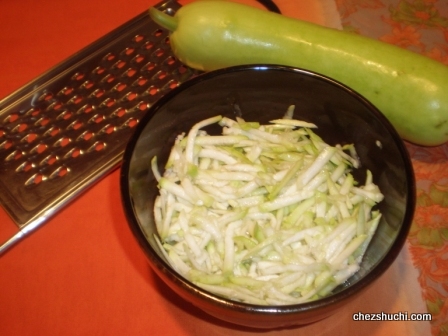 Grated Lauk i(bottle gourd) 2 cup

Milk 4 cups 1 lt
Sugar ¼ cup
Assorted nuts ¼ cup
Green cardamoms 2-4
Pure ghee 2 tsp

Method of preparation
Remove the outer green cover of the cardamoms and grind them in the mortar.
Thinly slice the nuts (pistachio, almonds, and the cashew nuts).
Heat ghee in a heavy bottom pan. Fry grated lauki (doodhi/ bottle gourd) for 2-3 minutes on medium heat.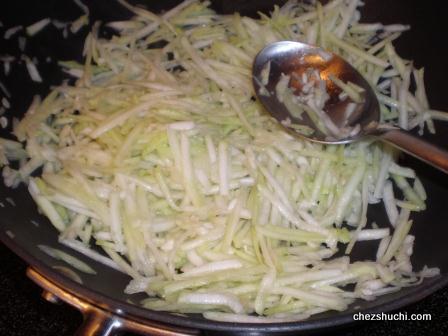 Grated lauki frying
Grated lauki looks like the follwing picture after frying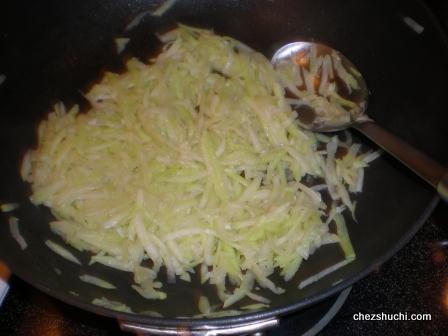 Now add milk . Boil the grated lauki with milk.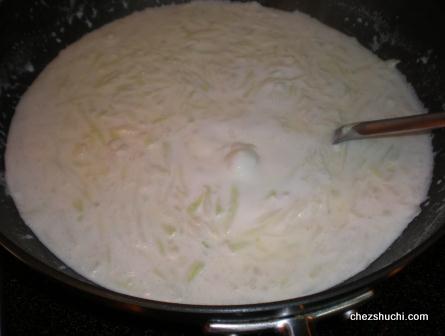 grated lauki and milk after 1st boil
After the first boil reduce the heat and cook lauki in the milk on medium-low heat. Stir in every 2-3 minutes.The total process takes about  30 minutes.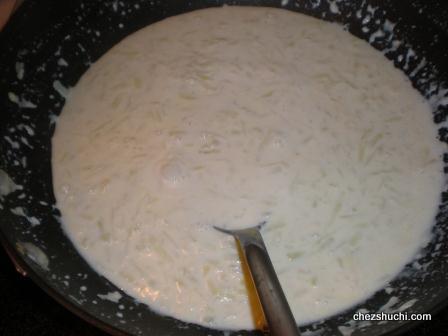 lauki ki kheer after about 20 minutes boiling
Now add sliced nuts and sugar, mix well and cook for couple of minutes. Now turn off the heat. Add ground cardamom powder and let the kheer cool down.
Delicious lauki ki kheer is ready to offer to gods, and then to serve.
Tips/Some Suggestions :
Do not use very fine grater to avoid the complete blending of bottle gourd in the milk. I have shown the grater in the side picture for your convenience .
---