Lauki Ke Cheele
हिन्दी में पढ़ें
Lauki ke Cheele (pancakes of bottle gourd) – This is a very delicious dish. I have taken two lentils ; moong dal and gram (chana ) dal for this recipe , if you want you can take only moong dal. Lauki (bottle gourd) is one of the lightest vegetable and lentil and veggie combination makes a very delicious dish. Try out this recipe and please do not forget to write your comments….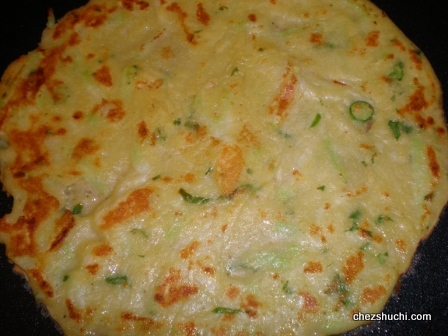 Ingredients

(makes 8)

Monng dal  ½ cups
Gram lentils(chana dal)½ cups
Squash (lauki) 1½ cups, grated

Salt    1 tsp

Green chili 2-3
Chaat masala½ tsp

Coriander leaves 2 tbsp chopped

Oil  2 tbsp

Method of preparation
Clean,wash and soak the moong dal and gram dal (chana dal) for around 4-5 hours in 3 cups of water.
Remove the stem, wash and finely chop the green chilies.
Make a fine paste of soaked moong dal and chana dal in the grinder.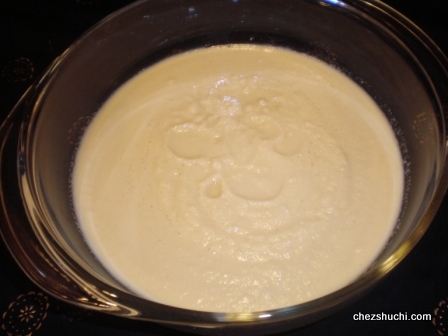 Add salt, chaat masala, grated bottle gourd (lauki),and chopped coriander leaves and chilies.
Heat the griddle (flat tawa). Clean the griddle with wet cloth. Now take half bowl of dal paste in a bowl or use a ladle. Spread it into a circle of about 7 inch diameter like following picture .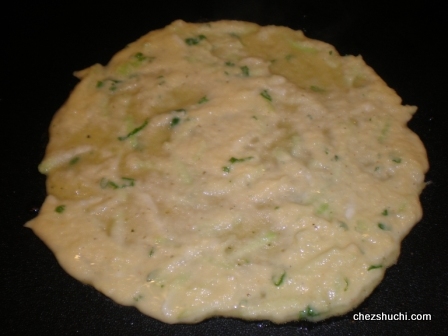 Sprinkle a little oil, and cook it from both sides.Takes about 2-3 minutes to cook a cheela.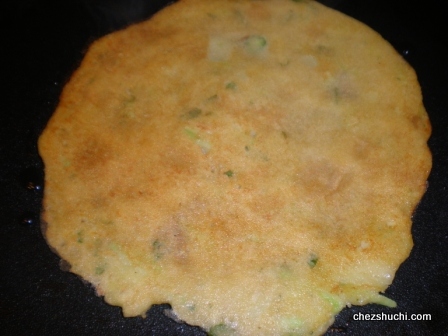 Serve hot-delicious cheela with chutney of your choice or with tomato ketchup.
Tip
Lauki cheela's will not be as thin as the plain cheelas are, because it has filling in it.
Some more lauki/ bottle gourd recipes
---