Lakhnawi Aloo Phulka
हिन्दी में पढ़ें
Phulka/ roti are staple Indian bread eaten in every corner of India. Phulka/ rotis are made with whole wheat flour and are healthy and delicious. This recipe is for delicious aloo (potato) mixed phulka. Try this out for a change and do not forget to let me know your views……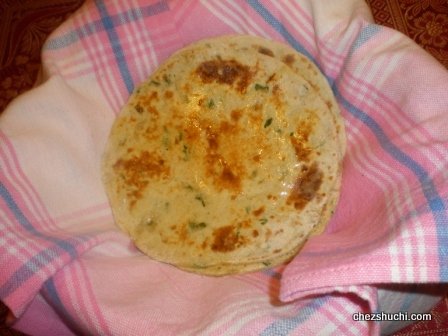 Ingredients

(makes 10 phulke)
Wheat flour 1¼ cups
Boiled potatoes 2 medium
Salt ½ tsp
Green chilies 2
Chopped coriander leaves 2 tbsp
Oil 1 tsp
Flour to roll the rotis -     2 tbsp; in a plate
Water to make dough about ¼ cups
Ghee/butter to brush the top
Special Utensil needed

Rolling pin
Method of preparation
Peel off, and thoroughly mash the potatoes.
Remove the thick stem, wash, and finely chop the green chilies.
Wash your hands thoroughly. In a bowl (parat) take the flour, mashed potatoes, chopped green chilies, coriander leaves, salt, and oil . ix well all the ingredients. At this point the flour will look like flakes.
Make a semi stiff dough by adding little water at a time. I prefer to knead the dough with hands, you are then sure of getting the right consistency. But food proicessor can also be used to make the dough. Cover the dough and leave it for 10 minutes.
Make 10 small rounds of the dough. Now roll the balls  with the help of little dry flour into a 5-6 inch circle.
the flour mixed with the other ingredients dough balls and rolled phulka
Heat griddle (tawa) . Place the rolled circle on the griddle, after 15 seconds turn the side of the roti. Wait for 15
phulka after 15 seconds phulka after flipping
For electric stove
Press the roti/phulka lightly with a clean cloth or a clean mitten glove. Roti will puff up, flip the sides and cook from the other side also.
Repeat the process with all the rotis.
You can also use the grill/ net like the follwing picure for the puffing up process.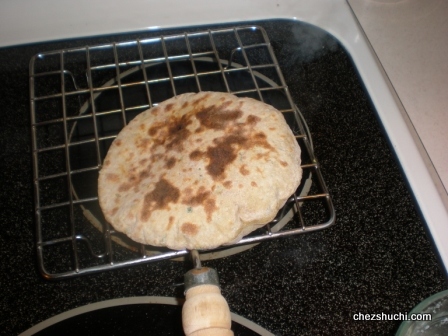 puffing up of phulka on the net
Note: For gas stove
Hold the roti with the tongs, remove the griddle and put the roti directly on the flame, rotis will puff up immediately, turn the side to cook the other side. (takes about a minute)
Top with butter or ghee (just brushing). Brush the front sides of two rotis together, and serve like this only, if you are serving hot rotis then each roti can be butterd individually .
Tips
While one roti is cooking on the griddle you can roll the other one. And repeat the process.
Dry flour to roll the roti or paratha can be stored in  a round shape container if you make Indian breads at regular basis..



---