Kundroo ki subji
हिन्दी में पढ़ें
Kundroo is an Indian summer vegetable; rich in beta-Carotene. Kundroo is also called as tindora is some of the states of India. This is a delicious and nutritious dry vegetable and can be served with dal-rice or with roti.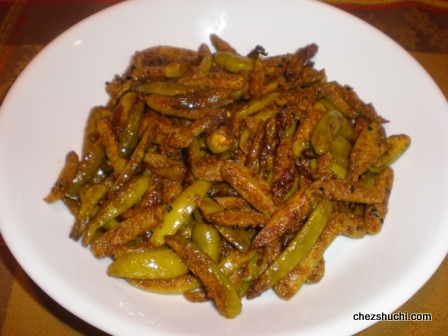 Ingredients

(serves 4)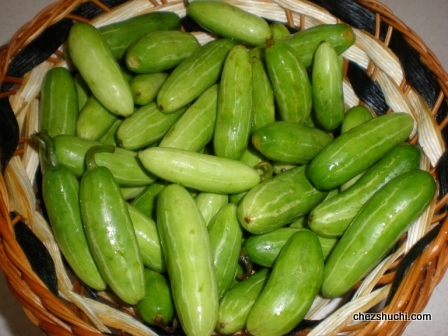 Kundroo  300 gms
Kalaunji   ¼ tsp
Turmeric powder ¼ tsp
Red chili powder ½ tsp
Coriander powder 2 tsp
Ground fennel 1 tbsp
Salt ¾ tsp
Asafoetida (heeng) a pinch
Fenugreek powder  ¼ tsp
Dry mango (amchoor) powder ¼ tsp

Oil 2 tbsp
Method of preparation
Wash Kundroos.  Remove the chip from both sides of the kundroos. Cut them in quarters (lengthwise).
Heat oil in a skillet. Add Kalaunji and asafoetida, fry for couple of seconds and add turmeric powder. Now add  kundroos , fry kundroos for a minute add coriander powder, red chili powder, fenugreek powder, and salt ; mix well. Cover the skillet and cook until the kundroos get tender; stir time to time. (Takes about 15-20 minutes).
When kundroos get tender add ground fennel and dry mango powder. Mix well and fry for two minutes. Turn off the heat.

Your Kundroos ki subjiis is ready to serve.



Serve with your choice of Indian bread or dal-rice.
Tip- when you buy kundroos make sure they are raw. If possible go for small kundroos they taste better.
---