Karaunda Mircha
हिन्दी में पढ़ें
Karaunda- Karaunda is a tropical and sub-tropical plant. I do not know any English word for this vegetable. It is very commonly grown in India and comes in abundance in the summers. Karaunda is a good source of Iron and it is also rich in vitamin C. A variety of delicacies are made out of karaunda. I could not find karaunda where I live but I'have found something close to it ; these are known as crab apples. In US and in Europe these plants are grown for their beautiful flowers and fruits are used to make jams & jellies.... Try out this recipe and enjoy the taste of karaunda in crab apple.....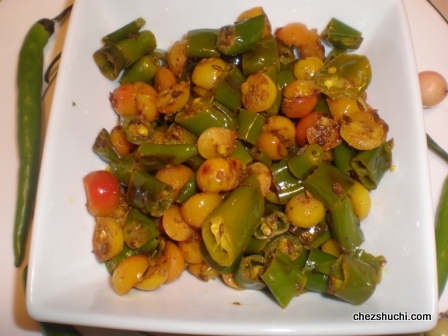 Ingredients

Green chillies 100 gms

Karaunda/ Crab apple 100 gms
Cumin seeds ½ tsp

Salt ½ tsp
Turmeric powder ¼ tsp
Oil 1 ½ tsp
Method of preparation
Remove the stem and wash the green chillies .Cut the green chillies into half inch small pieces.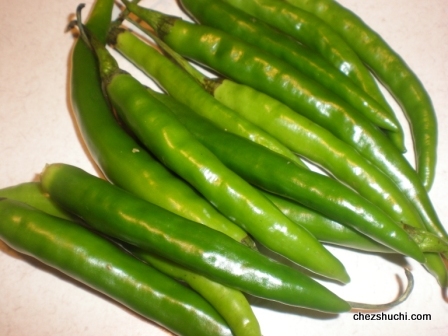 Remove the stem , wash and cut the crab apples into halves.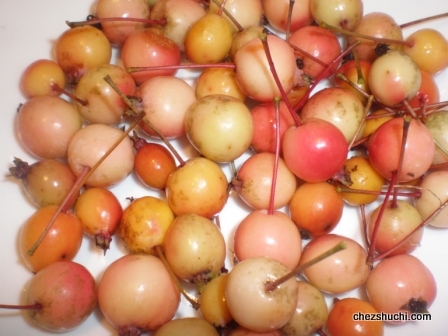 Heat oil in a wok, add cumin seeds , when seeds stop spluttering, add turmeric powder, crab apples and chopped chilies, and fry for a minute. Now add salt, mix well, and cook till the crab apple gets tender. Takes about 10-12 minutes to cook it.
Store in a glass bottle . This vegetable-pickle can be kept in the refrigerator for a week.

Serve with any meal .
This is a very nice comnination of sour and chili instant pickle.
Some more Chutneys and Pickles
---