Kalakand/Mawa Mishri
हिन्दी में पढ़ें
Kalakand is a very famous North Indian dessert. In Western India (specially in Rajasthan) kalakand is also known as Mawa Mishri . In this dessert, milk is slowly converted into granular form by adding alum a little by little, without letting the milk split. Traditionally, mishri is used instead of sugar to make this dessert.. I could not find mishri so I have used sugar..I got the idea of this recipe from Master Chef Sanjeev Kapoor's book, so big thanks to Mr Kapoor for sharing such wonderful recipes. Enjoy this delicious dessert….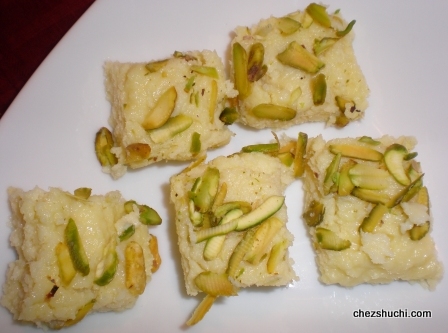 Ingredients

(makes 15 pieces)
Milk, full cream   1 lt

Ghee    few drops to grease the tray /thali

Sugar  3 tbsp

Pistachio  8-10

Alum granulated/ powder 1/8 tsp
Method of preparation
Grease the tray, plate or a small thali by using few drops of ghee. Keep aside.
Thinly slice the pistachios and keep aside.
Boil milk in a wok. After the first boil, add half of the alum powder and stir continuously. You will notice that some thickened granules will start forming. Stir continuosly.
Now after about 5 minutes of boiling add the rest of the alum and keep stirring. You will see more granules and thickened milk.
first look of milk after adding alum milk after 10 mins
Milk will be granulated and completely thickened after about 18-20 minutes.
When milk is thickened, but not completely dry add sugar . Kep stirring for another 2 minutes or until the water left by sugar has dried up.

milk after about 18 minutes milk after adding sugar.
Now turn off the heat and set the mixture on the greased tray.
Now add sliced pistachios on top of kalakand and let it cool down, takes about 10 minutes.
Kalakand on the greased cake bowl garnished with sliced pistachio
Cut the kalakand in required shape. Traditionally it is cut into square shape.
Kalakand is ready to serve. You can also make kalakand for religious ceremonies and offer to gods !
Some tips/ Suggestions:
I have used cow's milk for the preparation of Kalakand. Buffalo milk is not available in the western world. You can also use buffalo milk , the procedure will be same.
Alum powder can be found in the spice section of grocery stores. Alum is used in pickling recipes as a preservative.
Garnish kalakand with some mishri if you can find it.
---