Green Curry Paste
Green curry paste is one of the most popular pastes used for many Thai delicacies. This is real hot stuff, but you can always cut the spices when making this paste at home.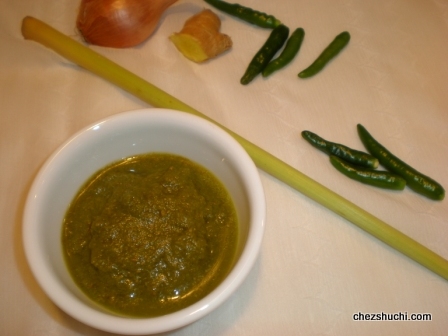 Ingredients

(makes ¾ -1 cup)
Green chilies 7-8
Shallots, chopped ¼ cups
Ginger 1 inch piece
Chopped coriander leaves ½ cups
Lemon juice 1 tsp
Coriander seeds ½ tbsp
Cumin seeds 1 tsp
Peppercorns 1/4 tsp
Lemon grass, chopped 2 tbsp
Salt 1/2 tsp

Method of preparation
Dry roast coriander seeds, cumin seeds, and peppercorns on low heat for about 2 minutes or until fragrant.

In the blender grind all the ingredients.

Green curry paste is ready to use.

This paste can be stored in the refrigerator for about 2 weeks and in the deep freezer for about 3-4 months.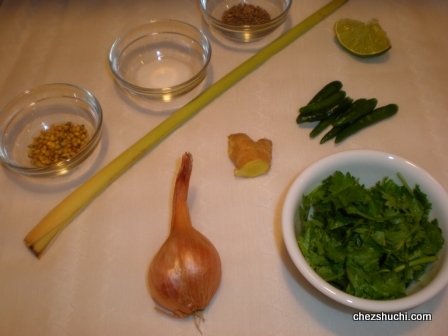 ingredients for green curry paste
Tip : Lemon grass is very fibrous.  After the grinding, you will notice lots of fibers (threads) in the paste. Squeeze off the juice and remove the extra fibers.
---