Autumn/Fall !!
इस पन्ने को हिन्दी में पढ़ें
Dear Readers,
Time flies by.... I can't believe it is almost time to bid goodbye to my kitchen garden ....We had planted the kitchen garden in May... It is getting colder every day, and we need to finish harvesting .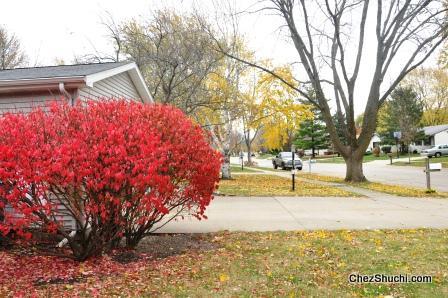 The air is crisp, leaves are changing the color from green to yellow, orange, golden, red, brown etc.., the sky is often grey, the days are getting shorter and nights are colder... yes, it is Fall/ Autumn. Autumn marks the transition from summer to winter. .....
The Colors of Fall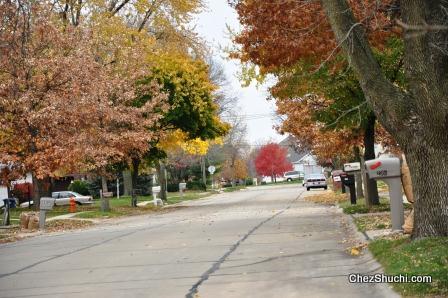 There are plenty of festivals that are celebrated in this season. Halloween and Thanksgiving are two festivals that are popular. I will write about these festivals when the time approaches.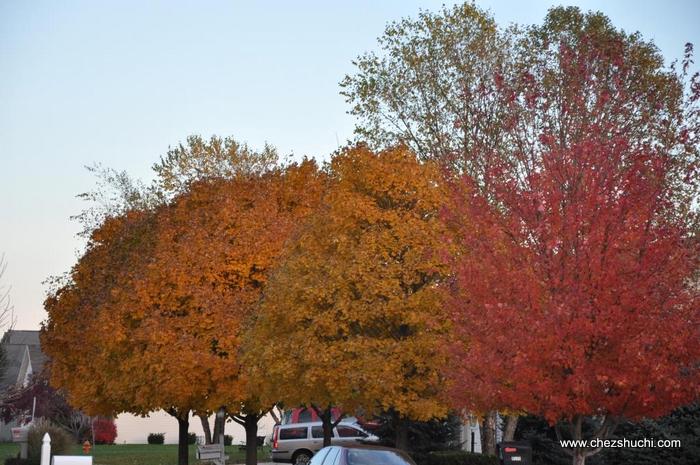 As it gets colder, we also need to migrate the tropical plants indoors. I have been extremely busy this past week in moving tropical plants indoors and harvesting some of the vegetables. A lot of tomatoes are still green -- tomatoes like long, hot summers in order to ripen fully.
First round of harvested vegetables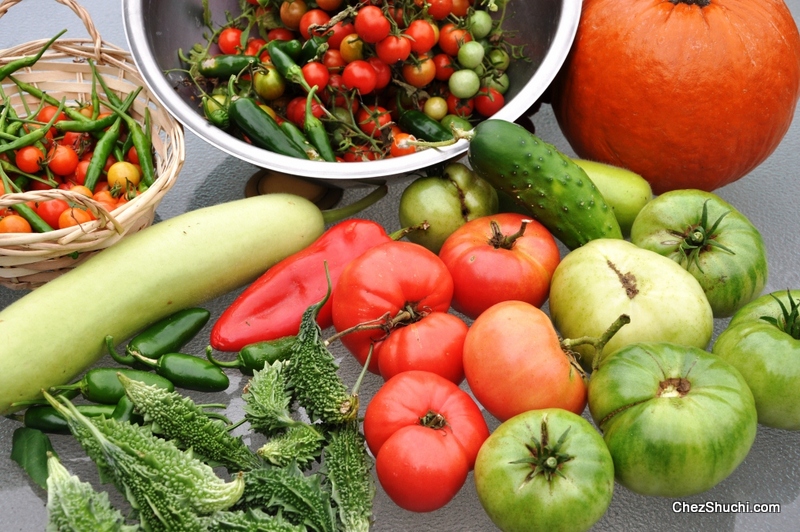 Cherry tomatoes, Heirloom tomatoes, Bitter gourd (karela), Bottle gourd (lauki), cucumber, chilies, etc
Last fall (2011) my parents were in USA with us. When the first frost date was forecast by the local meteorology department in October, my father picked up all the green tomatoes from the kitchen garden, kept them nicely in a carton, and covered them with towels from every side. They ripened and turned red with time...and those tomatoes had lasted for months. If you want to ripen the green tomatoes early, take 4-5 tomatoes, put them in a separate carton with a ripe red apple. Cover them with a clean towel. Apples release the gas Ethylene which works as a growth harmone and helps in the ripening of tomatoes.
Bitter gourds are still hanging on the fence, but the leaves have almost dried up, and there is very little possibility of their growing anymore. The right panel shows the green, tiny mint leaves waiting for nice sunshine ........ The seasons keep changing ....Enjoy them!!
Best wishes,
Shuchi