Dilruba Rice
हिन्दी में पढ़ें
This delicious rice recipe has come to me from my sister in laws. My sister in law, Arpita made it with methi malai paneer and everyone specially kids loved it. So If your kids are fussy and do not like vegetables try this Dilruba rice, believe me they will ask for more.....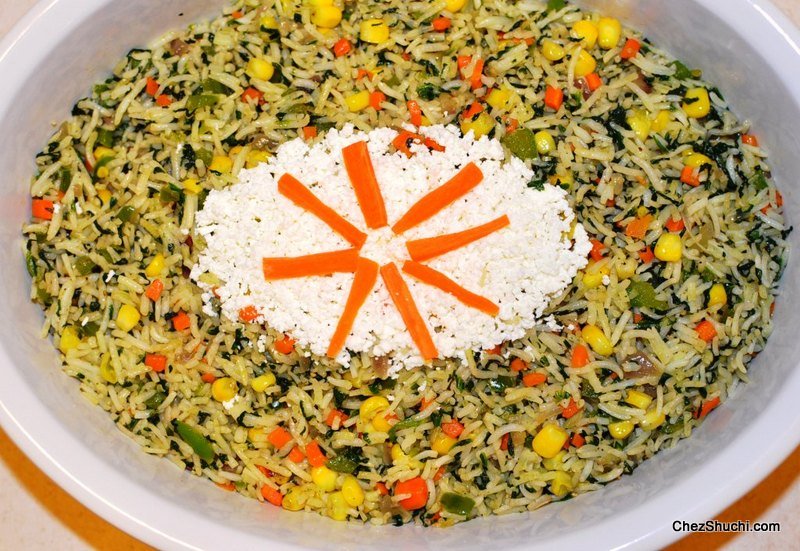 Ingredients

(serves 4-6)
Boiled Rice 4 cups
Onion 1 medium
Bell pepper 1 medium
Carrot 1 big
Spinach 100 gms (2 cups)
Corn kernels 1 cup
Mashed paneer ½ cup
Garam masala ½ tsp
Black pepper ¼ tsp
Salt 1

¼

tsp
Ghee/ oil 4 tbsp
Method of preparation
Use a fork to loose and separate the cooked rice. Keep aside.
Peel off wash and finely chop the onions.
Wash the bell pepper, cut it into halves. Remove stem, and seeds, and finely chop the bell pepper.
Remove the stem, wash and finely chop the spinach leaves.
Peel off, wash, and finely chop the carrot.
Wash corn kerenels. Mash paneer.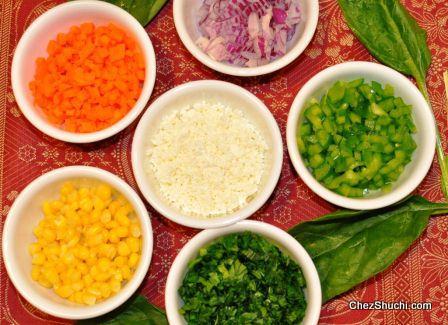 vegetables for dilruba rice
In a wok heat ghee on medium heat. Add chopped onions and fry till onions are translucent. (takes about 2 minutes)
Add spinach leaves and sauté for 30 secodns. Now add chopped carrots, and bell pepper. Mix well and fry for couple of minutes.
Now add corn kernels, and fry for a minute.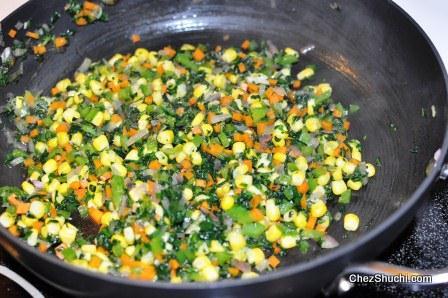 veggies frying for rice
Add boiled rice in the fried vegetables. Mix gently. Now add salt, bleck pepper, and garam masala. Mix well and fry for few minutes.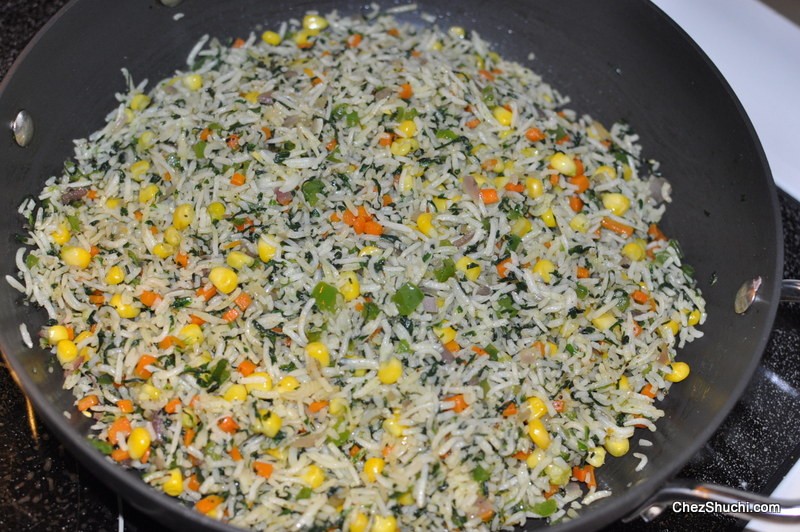 after adding rice
Garnish the rice with mashed paneer.
This delicious rice can be served with any curry. You can also serve it with Raita of your taste.
Some Suuggestions/Tips:
You can also add some processed cottage cheese on top of the veggie rice and bake it for 10 minutes/ or until the cheese melts .
I have used frozen corn kernels for this recipe.
The amount of vegetables can be increased and decreased as per taste.
You can also some other vegetables like green peas, beans etc in this dish.
You can also add finely chopped paneer with veggies in this dish.
Suggestions For Kid's Lunch box:
Dilruba (mixed veg rice) is an ideal Lunch box meal for kids as well as adults. Different vegetables and paneer has been added to make it more delicious as well as nutritious. It is absolutely low-fat so if you are health conscious, this is the right choice for you. With Dilruba rice there are clementines, and a berries granola bar for dessert.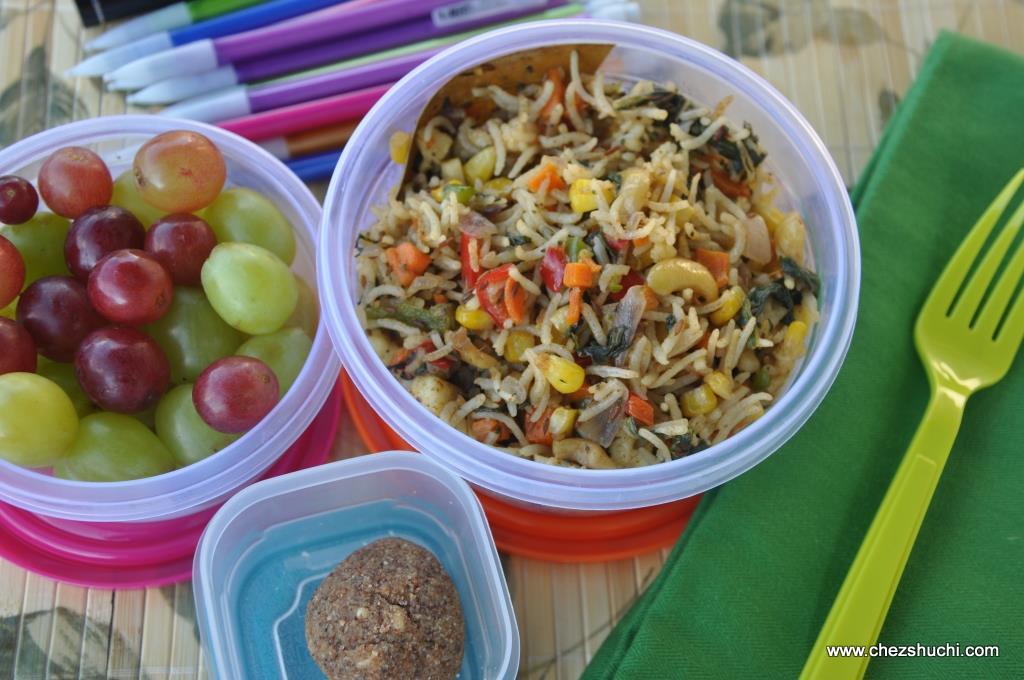 Some other Kid's Lunch box ideas
---