Dhaba Rice
Dhaba (ढाबा) is a word which is very much related with India. In India a roadside restaurant situated on the highways is called a Dhaba. Dhabas generally serve local cuisine and make fresh food. The food at Dhabas is inexpensive and less oily . But very delicious! Nowadays people specially make a plan to eat out at Dhabas and drive 25-30 kms for the same.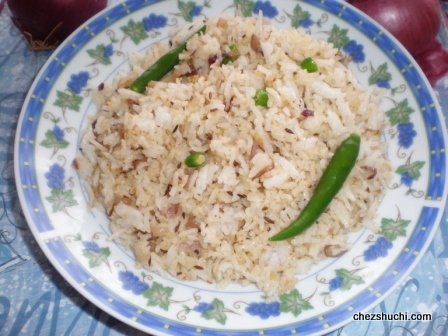 Ingredients

(serves 4)
Boiled Rice 4 cups
Onions   2 medium
Green chilies 2
Cumin seeds1 ¼tsp
Asafoetida a pinch
Salt       1¼ tsp or to taste 
Red chili powder        ¼ tsp

Ghee/oil 1½ tbsp 
Method of preparation
Peel off, wash, and finely  chop the onions . Remove the stem and chop the green chilies.

Heat oil in a pan, add cumin seeds when seeds crackle add asafoetida, onions, and green chilies.Fry for 2-3 minutes or until onions are translucent .

Now add boiled rice, salt, and red chili powder and mix well. Sauté for another 3-4 minutes.  Dhaba rice is ready.

Serve with the Raita of your taste. Dhaba rice tastes good with Arhar dal also.
---