Dal Makhani
हिन्दी में पढ़ें
Dal Makhani is made with the combination of two whole lentils : Red beans (rajma) and Whole Urad (sabut urad). This is a rich lentil preparation, as it has milk, and butter in it. This is a very delicious dal, and can be served with butter naan.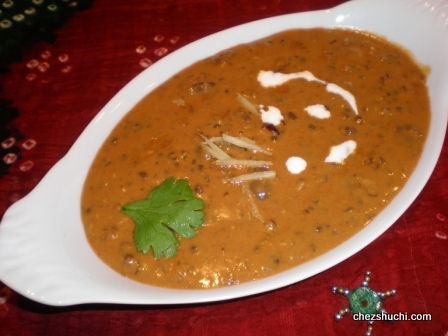 Ingredients

(serves 4)
Rajma (red kidney beans)  ¼ cups
Urad dal  ½ cups
Salt 1 ½  tsps
Water about 2-3 cups
Milk 1 cup
For Seasoning 
Onion 1 small
Tomato puree ½ cups
Ginger 1 ½ inch piece
Green chilies 2
Red chili powder ½ tsp
Garam masala 1 tsp
Coriander powder 2 tsp
Turmeric a pinch
Butter  3 tbsp
For Garnishing  
Chopped coriander leaves 1 tbsp
Fresh cream 2 tbsp
Grated ginger 1 tsp
Method of preparation
Clean, wash, and soak the rajma (kidney beans), and urad dal  in 2-3 cups of water overnight.

Boil the rajma, and urad dal with 1 tsp salt in the pressure cooker on medium heat. Take 2-3 whistles (It takes around 15 - 20 minutes to get them tender).

Add lukewarm milk in the boiled lentils little by little and stir continuously. If the dal is too thick add more water/ milk . Cook for 10-12 minutes on low heat. Make sure the milk is lukewarm, else it may curdle.

Peel off, wash and roughly chop the onion. Peel off and wash the ginger. Remove the stem, and wash the green chilies.

Make a fine paste of ginger, green chili and onion.

Heat butter in a pan and fry the paste till it becomes golden brown. Add garam masala, red chili powder, coriander powder, a pinch of turmeric powder(optional), and remaining salt, fry for a minute. Add tomato puree in the fried masala and cook until masala leaves the sides of the pan.

Pour the seasoning into the cooked dal. Mix well and cook for another 2-4 minutes.

Garnish with coriander leaves, grated ginger and cream at the time of serving.
Serve with butter naan .
Tip - I do not use garlic in my cooking. But if you want to add garlic, add with onion while making paste or fry chopped garlic in the butter first and then add onion paste.
---