Chinese Fried Rice
This is an authentic Chinese  recipe to make fried rice.This can be served as one meal dish or can also be served instead of steamed rice to go with a meal. This is a vegan recipe.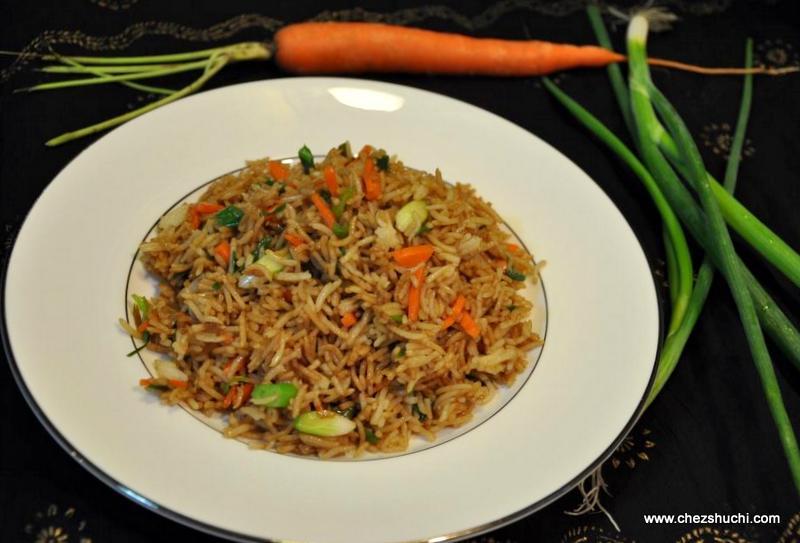 Ingredients

(serves 4)
Boiled Rice  4 cups
Carrots 2 medium

Green onions 2-3
Red Onion 1 small
Soy sauce 2 tbsp
Salt 1 tsp or to taste 
Oil 2 tbsp
Method of preparation
Use a fork to loosen and separate grains of cooked rice.

Peel off wash and dice the carrots. Wash and finely chop the green onions. Peel off wash and dice red onions.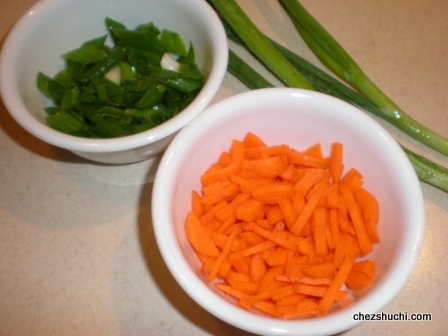 Heat a wok, add oil wait for few seconds, now add diced red onions . Fry on high heat for a minute, now add carrots and fry for another minute. Add green onions and fry for about 20-25 seconds.
Add loosened boiled rice, stir in soy sauce and salt. Mix thoroughly. Stir constantly for about 2 minutes.
Delicious fried rice are ready to serve. This is a complete meal and can be served as a one meal dish.
Tip:
Other vegetables like corn kernels, French beans, broccoli etc can also be added in this preparation.
Use long grain rice for this preparation. After steaming/ boiling let the rice cool down completely, so they will not stick.
---