Butter Naan
हिन्दी में पढ़ें
Naan is made out of leavened all purpose flour. Traditionally naan is made in a clay ovens - Tandoor. Well, since tandoor is not available everywhere, so we can use electric oven, barbeque or even regular stove to make naan. There are variety of naans made like butter naan, paneer (cottage cheese) naan, garlic naan, etc...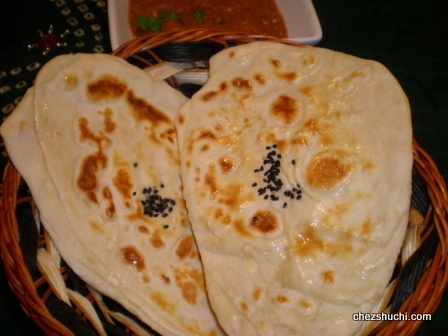 Ingredients

(makes 10 Naans)
All purpose flour (maida) 2 cup
Yogurt     3 tbsp

Salt    ½ tsp
Sugar    1 tsp
Oil       1 tbsp
Yeast ¼ tsp / Sodium bicarbonate (Baking soda)  ¼ tsp
Water about ¼ cup   to make dough
Kalonji 1 tsp
Butter for brushing the naans
Others:
¼ cups of flour to roll the naans
Method of preparation
Soak yeast in 2 tbsp lukewarm water for 10-15 minutes.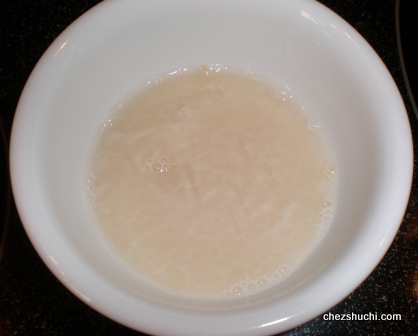 Activated yeast
Take flour, salt, sugar, and 1 tbsp oil, mix them well . Add yogurt and mix well again. Now add yeast water and mix well again. Now add little by little water at a time and make a medium soft dough. Cover the dough and leave it for 2-3 hours in a warm place for fermentation.
After 2-3 hours, the dough will rise up to the double of the original in volume. Knead the dough again and make 10  round balls of the dough .
Now roll the balls gently by dusting a little dry flour into about three inch diameter, fold them into half and again to quarter. Now dust little flour and roll the naan again into about 4 -5 inch triangular shape naan. Poak the the naan at 4-5 places.( naans are usually rolled much thicker than other rotis.) You can also make round naans if you find it hard to make triangular naans.
Place about 2 pinches of kalonji in the middle of the naan and press gently . 

For Electric oven
Pre heat oven at 410 F. Place 3-4 naans on the grill and cook for about 5-7 minutes in the broil mode.
For Electric stove
Heat griddle on medium heat , place the naan on the griddle and reduce the heat and cook the naan from both sides until you see reddish spots.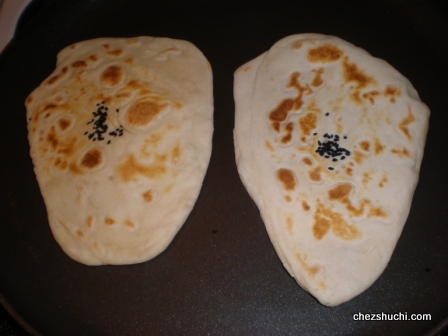 Repeat the process with all the balls.
Top with butter at the time of serving.
Serve butter naan with dal makhani or any other curry of your taste.
Some Suggestions/ Tips :
If you are using sodium bicarbonate ( soda) in place of yeast add directly in the flour with salt and sugar.
For clay furnace/tandoor- Professional style
Following are pictures taken from a restaurant in New Delhi (with permission). So this is the professional way of making naan.The dough making for naan is similar ....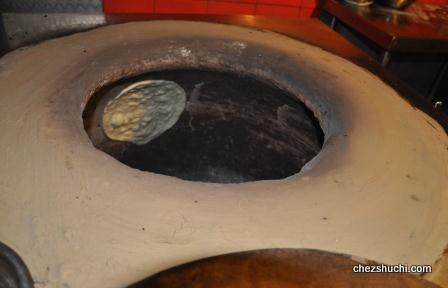 rolled naan is stuck in the inner wall of clay tandoor...
Naan is getting baked....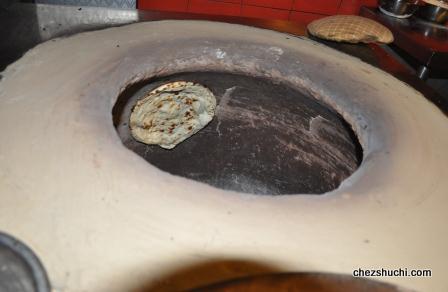 Cooked naan is being taken out from the oven.......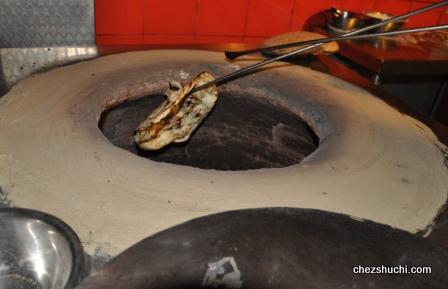 Completely done naan...Now top the naan with butter if you wish to.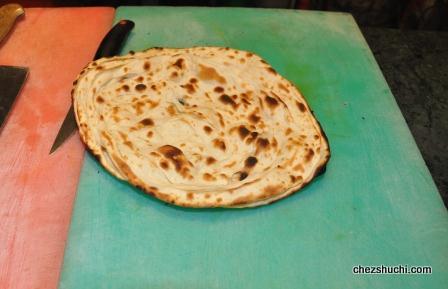 ---