Garden Fresh Burger
हिन्दी में पढ़ें
Veggie Burgers are delicious preparations, though sometimes it is hard to find a veggie burger in a fast food joint. Veggie burgers can be easily made at home and present a healthier, and more delicious option. Use whole wheat buns instead of regular white buns.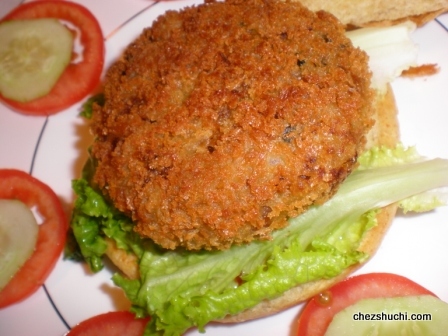 Ingredients

(makes 6)
For Cutlets:
Boiled Potatoes 6 medium
Onion 1 medium
Green chilies 2
Grated ginger 2 tsp
Finely chopped
Cabbage ½ cups
Grated carrots ½ cups
Green peas ¼ cups
Cumin seeds ½ tsp
Red chili powder ½ tsp
Chaat masala ½ tsp
Garam masala ½ tsp
Salt 1 ¼ tsp or to taste
Lemon juice 2 tsp
Chopped coriander leaves 2 tbsp
All purpose flour 3 tbsp
Bread crumbs ½ cups
Oil 2 tsp + to shallow frying

For Burgers:
Round burger buns 6
Butter 2 tsp
Lettuce leaves 6 pieces
Cucumber 1 -2 small, sliced
Tomato 1 medium, sliced
Sauce to taste
Dijon mustard sauce
Mayonnaise sauce
Tomato Ketchup
Method of preparation
For Cutlets:
Peel off, wash, and finely chop the onions. Remove the thick stem, wash, and finely chop the green chilies.

Peel off, and mash the boiled potatoes.

Heat oil in a non stick wok. Add cumin seeds, when seeds stop crackling, add chopped onions, and green chilies. Fry the onions until translucent.

Add grated ginger and carrots and fry for 1-2 minutes. Now add cabbage, and peas and fry for a couple of minutes on medium heat.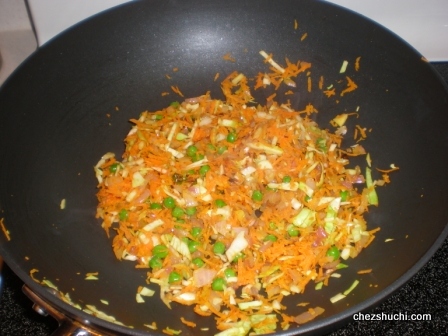 fried vegetables for burger
Add red chili powder, chaat masala, garam masala, and salt and mix well. Fry the vegetables for another minute.

Now add mashed potatoes in the above mixture. Mix well and add lemon juice and chopped coriander leaves. Turn off the heat. Let the mixture cool down.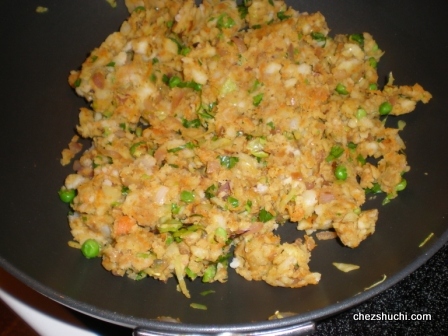 fried vegetables and potatoes
Make 6 flat balls ( tikkies) of the potato mixture.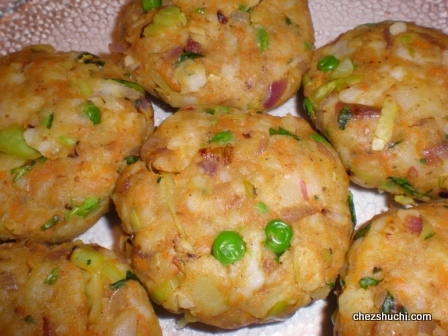 vegetables cutlets/ tikkies
Make a fine paste of all purpose flour in about ¼ cups of water.

Heat oil in a shallow frying pan, dip the potato ball in the flour paste and coat the bread crumbs evenly .

vegetables cutlet after dipping in all flour paste and coated with bread crumbs
Deep fry the tikkes on high heat from both the sides. It takes about 5 minutes to fry the tikkies.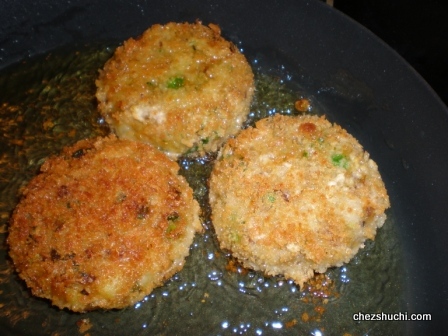 vegetables cutlets in the oil
Drain out the cutlets to the kitchen paper.
To serve the burgers..
Cut the burger buns from the middle to open the buns.

Heat the griddle or tawa, apply a little butter on both the sides of the bun and fry .

Now apply a fine layer of your favorite sauce (mustard, ketchup or mayonnaise or may be all three!) on the inner side of the bun. Set a lettuce leaf, on top of the bun. Now put a cutlet (tikki), and top with sliced tomatoes and cucumber.
Burger is ready to serve.
Serve delicious garden fresh burger with mango pineapple smoothie.
Tip : If you like, a slice of cheese can also be kept in between the bun.
---