Bruschetta
हिन्दी में पढ़ें
Bruschetta is an Italian appetizer made with grilled bread topped with ripe tomatoes, basil, olive oil, and seasoned with salt and black pepper. This is a basic recipe of bruschetta snack. One can make different version of this delicious starter by topping with mushrooms, olives, etc…..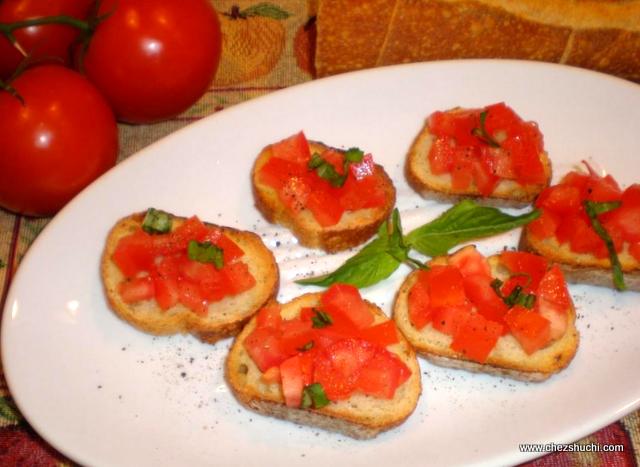 Ingredients

(Makes 24-25 pieces from 1 baguette(French bread))
Red tomatoes 2 medium
French bread (Baguette) 1
Fresh basil chopped 2 tbsp
Red onion, 1 tbsp minced
Salt to taste
Pepper to taste
Extra virgin olive oil to brush the breads+ 2 tbsp

Method of preparation
Pre heat oven to 400° F.
Wash and chop the tomatoes. Remove the seeds and also try to remove the juice from the tomatoes - as much as possible.
In a bowl mix minced red onions, chopped tomatoes, olive oil, chopped fresh basil, salt and black pepper. Mix well.
ingredients for Bruschetta
Cut the Crusty Italian/ French baguette breads into half inch thick slices.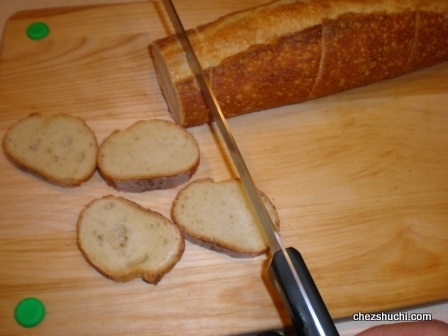 slices of baguette (French bread)
Place bread slices on the cookie sheet and toast the bread in the oven for 4-5 minutes. Now turn the side and toast the other side also for 4-5 minutes. Make sure breads don't burn.
Brush the extra virgin olive oil on the bread slices.
Now put a spoon full of tomato mix on top of the slices. If you like, then garnish with basil..
Delicious, crisp Bruschetta is ready. Serve Immediately.
Some Tips/ Suggestions :
The original Italian recipe asks for minced garlic. Since I do not use garlic in my cooking I have used onion instead.
You can also add 1 tsp of balsamic vinegar if you want to.
---