Stuffed Eggplants
(Bharvan Baingan)
हिन्दी में पढ़ें
Baingan is the Hindi word for brinjal. In western world brinjal is more commonly known as eggplant or aubergine. There are many different recipes for stuffed eggplant - baghare baingan (Hyderabad), Achari baingan (Awadh), Baingan ki kalaunji, etc... Stuffed vegetable preparations are considered exotic and are often made for parties and celebrations. This recipe is a combination of Awadhi and Bengali cuisine. Long ago I had read the Bengali version of stuffed eggplant and I added some other spices to enhance the flavor. I have used paanch phoren (the blend of five spices from West Bengal) in this preparation. Try this delicious stuffed veggie preparation.........
Ingredients

(serves 4)
Baingan (eggplant) 250 gms / ½ lbs
Cumin seeds 1 tsp
Fennel seeds (saunf) 1 tsp

Nigella seeds (kalaunji) ¼ tsp
Fenugreek seeds ½ tsp
Mustard seeds ¼ seeds
Turmeric powder ½ tsp
Red chili powder 1 tsp
Coriander Powder 1 ½ tsp
Garam masala ½ tsp
Amchoor powder1½ tsp
Salt 1¼  tsp
Oil 3 tbsp
Small eggplants would be ideal for this recipe.
Method of preparation
Wash, and wipe off the extra water of the eggplants with the kitchen towel paper. Now cuta a criss-cross in the eggplants keeping them joined at the stem. As shown in the following picture. Keep aside.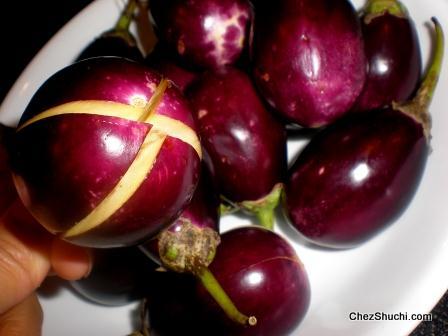 Following picture shows the five spices used for Paanch phoren ( A Bengali spice mix). The five spices are cumin seeds, fennel seeds (saunf), nigella seeds (kalaunji), fenugreek seeds, and mustard seeds.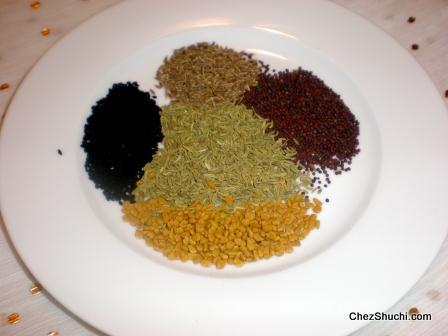 Heat a wok, dry roast the five spices on low heat for a couple of minutes or until aromatic. Turn off the heat and allow the spices to cool down.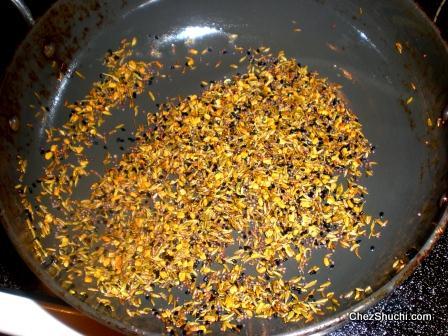 Now grind the spices in the spice grinder (I use coffee grinder). I prefer a coarse spice mix.
In a bowl take ground paanch phoren mix, turmeric powder, coriander powder, red chili powder, dry mango powder, garam masala, and salt. Add 1 tbsp water or oil to mix the spices well.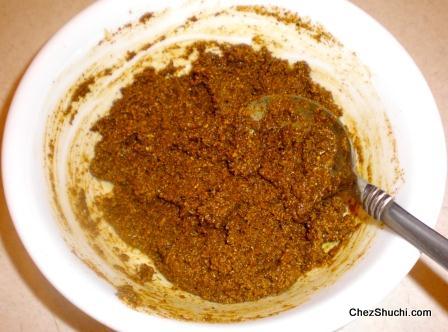 Open the slit of eggplants and fill the spice mixture in it. Repeat the process with all the eggplants.
In a wok heat oil, put all the stuffed eggplants in the wok, and then fry for a couple of minutes.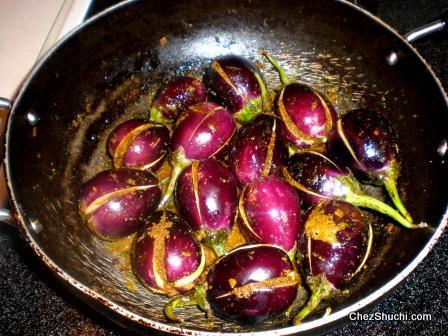 Now reduce the heat, cover the lid and cook until eggplants are done. (takes about 15-20 minutes). Do not forget to stir the eggplants occasionally.
Now fry the eggplants for a minute and turn off the heat.
Delicious bharvan (stuffed) eggplant is ready to serve. Serve with Roti, Plain Paratha, or your favorite Indian bread.
Some Tips/ Suggestions :
In traditional North Indian and also in Bengali cuisine Bharvan baingan and also most of the dry vegetables are cooked in mustard oil.
You can adjust the amount of spices as per taste.
---