Baked Macaroni with Marinara
हिन्दी में पढ़ें
There are different ways to make baked Macaroni. I like to bake elbow Macaroni in marinara sauce with Parmesan cheese and then top it with Mozzarella cheese and bread crumbs. I have used wheat Macaroni for this dish to make it healthier. .....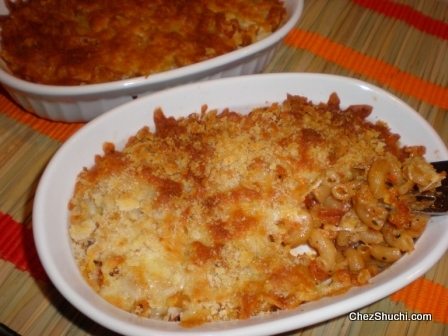 Ingredients

(serves 4)
20-25 minutes preparation and cooking time + about 25 minutes for baking
For Pasta:
Elbow Macaroni 200gms
Water about 5-6 cups to boil the pasta
Salt 2 tsp
For Marinara Sauce:
Red Roma tomatoes 4 medium 450 gms/ 1 pound
*Red onion 2 tbsp minced
Salt ½ tsp
Black pepper, Freshly ground to taste
Olive oil 2 tbsp
To Bake:
Parmesan cheese ½ cup, grated
Mozzarella cheese ¾ cup, grated
*Traditional Italian recipe calls for 1 minced garlic clove; since I do not use garlic in my cooking, I have used red onion instead.
Method of preparation
Boil about 5-6 cups of water in a big pan. Add 2 tsp salt and Macaroni in the boiling water.
Boil until Macaroni are soft but firm. Usually it takes about 5-6 minutes to boil Macaroni. Drain lightly.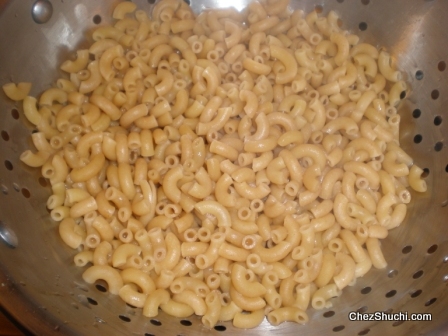 boiled Macaroni
Wash and boil the tomatoes for 2 minutes. Let the tomatoes cool down. Now take the skin off, and cut the tomatoes in half. Scoop out the seeds of the tomatoes, and dice the tomatoes.
Heat olive oil in a pan/ wok. Add minced onions. Sauté for about 2 minutes or until onions are golden.
Now add chopped tomatoes, salt, and freshly ground black pepper in the sautéed onions.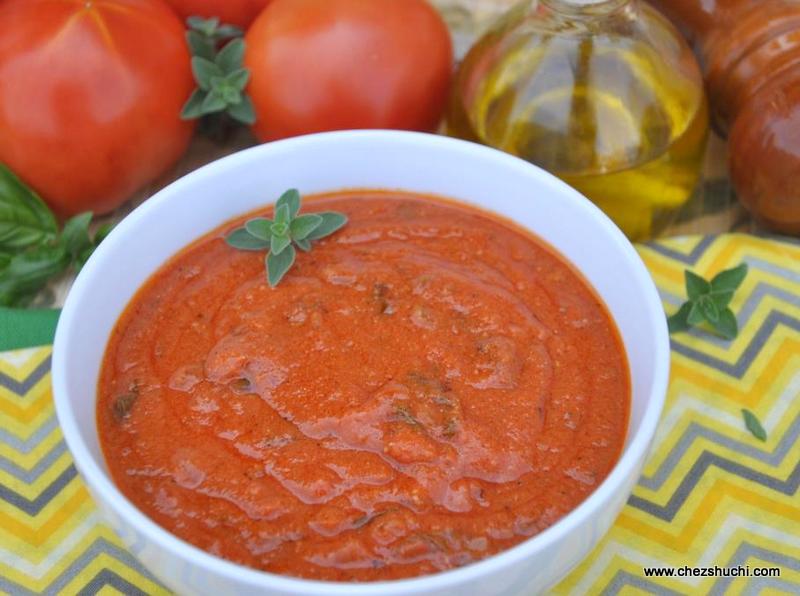 marinara sauce making
Mix well and let it cook on medium to low heat for about 10-15 minutes or until the sauce is thick and smooth.
Now add boiled macaroni in the sauce. Toss well until Macaroni are well coated with the sauce. Adjust the amount of salt, and pepper to taste.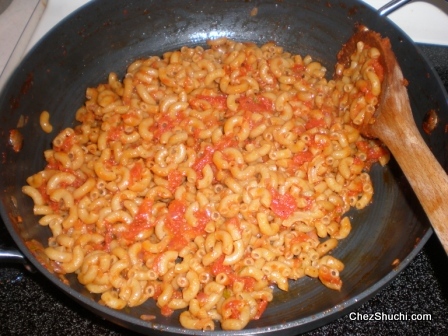 Now add parmesan cheese . Mix well and turn off the heat.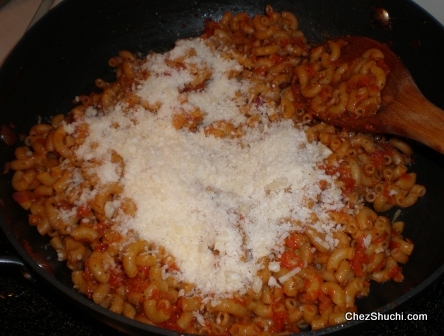 After adding Parmesan cheese in Macaroni
Pre heat oven at 350 F.
Grease the baking dish . Now transfer the Macaroni in a baking dish. I like to use samll baking dishes which can be served individually.
Macaroni in small baking dish
Spread grated Mozzarella cheese evenly on top of the macaroni. You can also spread a fine layer of bread crumbs .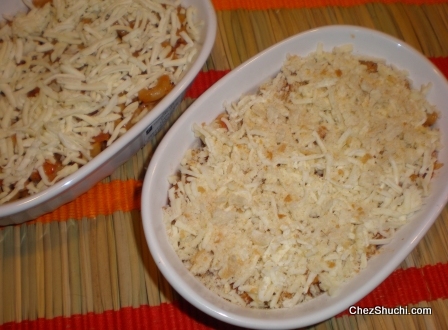 After spreading Mozzarella chesse
Bake until the the top is nicely browned. It takes about 25-30 minutes to bake Macaroni.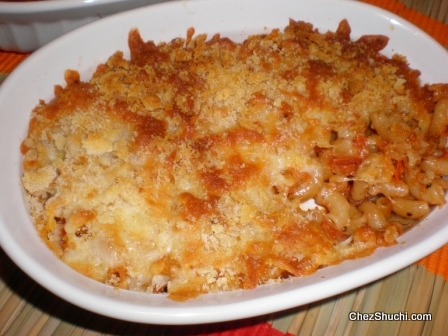 well baked Macaroni
Tips/ Suggestions
You can assemble the dish until step 11, keep it in the refrigerator after covering the dish with an aluminium foil, and bake it later when you need it.
While pasta is boiling you can make sauce on the other burner to save time.
In traditional Italian cooking minced garlic is used ; since I do not use garlic in my cooking I have used red onion instead.
Parmesan is known as Parmigiano-Reggiano chesse in Italy.
You can also use some other variety of small pasta if you do not find Macaroni.
---