Arhar Dal
हिन्दी में पढ़ें
Arhar Dal is also called as toor dal or pigeon pea. It is yellow in colour and the most common dal in all over India. While in North Indian cuisine it is flavored with spices and served with roti and rice,in South Indian cuisine it is used to make sambar, rasam etc.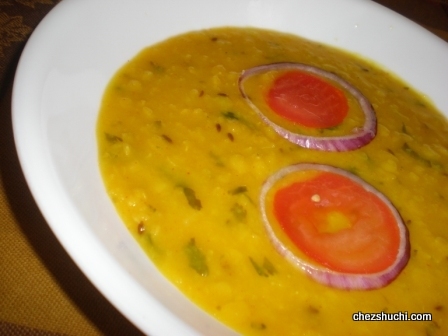 Ingredients

(serves 4)
Arhar dal 1 cup
Salt to taste /1 tsp
Turmeric powder ½ tsp
Coriander powder    ½ tsp 
Lemon juice   2 tsp 
Cumin seeds 1 tsp
Asafoetida     ¼ tsp
Red chili powder       ½ tsp
Whole red chili 1-2
Ghee 1 tbsp
Chopped coriander leaves     1tbsp 
Method of preparation
Clean and wash the lentils . Soak the lentils in 2 ½ cups of water for 20 minutes.
Add salt and turmeric powder and boil the lentils until it's tender.( take a whistle in the pressure cooker)

Add coriander powder and lemon juice and boil for another  minute.
For Seasoning
Heat the ghee. Add cumin seeds. When seeds crackle, add asafoetida, and turn off the gas. Now add red chili powder and whole red chili.
Add the seasoning onto the Dal.
Garnish with chopped coriander leaves .
Serve with roti or rice or why not both !
Variation :
To make restaurant style dal (lentils) at home, heat 1½ tbsp ghee, fry finely chopped onion (1 medium size) until golden brown, now add finely chopped tomato(1 medium size). Fry until the masala leaves the sides of the pan. Pour this seasoning on your regular dal.
---