Aloo Palak ke Kofte
The word 'Kofte' has come from the Middle East, and these dishes have Mughlai influence. Koftas are usually made of grounded meat. In India various vegetarian koftas are in vogue, because of a large vegetarian population. Koftas are delicious, rich delicacies. This recipe is for a green curry.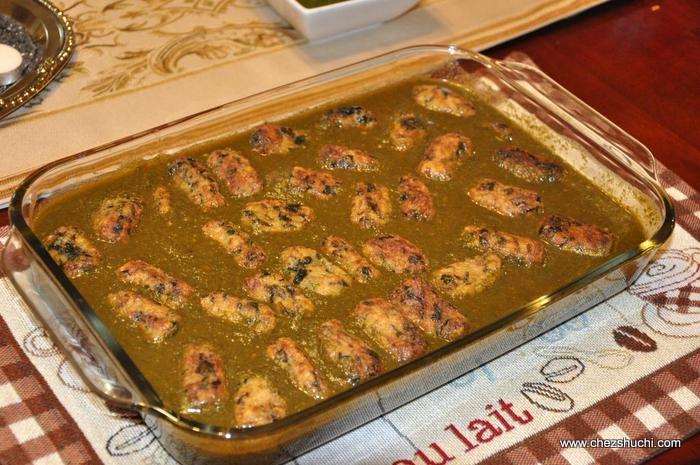 Ingredients for Kofte

(serves 4)
Boiled  potatoes  4 medium
Spinach 100 gms
Green chili          1
Salt       1 tsp
Red chili powder ½ tsp
All purpose flour (maida)  1 tbsp+ 1 tbsp to roll the kofte
Oil for frying
Ingredients for Curry
Spinach 500 gms
Green chili    1-2
Onion      1 medium
Ginger    1 ½ tsp
Tomato puree 2 tbsp
Salt       1 ½ tsp
Garam masala 1 tsp
Lemon juice 2-3 tsp
Butter 2 tbsp
Fresh cream    50 gms
Method of preparation for Kofte
Remove the thick stem and wash the spinach leaves.
Keep them on the kitchen paper/towel for about 2 minutes to remove the extra water. Finely chop the spinach leaves.
Wash, remove the stem and chop the green chili.
Peel off, and mash the potatoes.Now add chopped spinach leaves, chopped green chili, salt, red chili powder and corn flour or all purpose flour in the mashed potatoes..
Mix them well and make 20 small balls of the mixture.
Roll the balls onto the flour. Remove the extra flour by rolling the koftas in your palm..
Heat oil in the wok. Deep fry the kofta balls on the high flame till golden brown.(takes about 5 minutes)
Tip: 1 Fry one ball first to check if the oil is hot enough.
2 If the balls are spliting in the oil you can add more all purpose flour.
Method of preparation for Curry
Remove the thick stem of spinach leaf and wash them thoroughly.
Peel off onion and ginger, chop them finely.
Boil 1 cup water in a pan with ¼ tea spoon salt and ¼ tea spoon sugar(to maintain the green color), boil the spinach leaves for 2 minutes and then take them out, repeat the process with all the leaves.
Make a coarse paste of boiled spinach leaves and green chili in the blender.
Heat butter in a pan, sauté onion for about 3-4 minutes and add ginger. Sauté for a minute.
Add tomato puree & garam masala , and fry until material leaves the sides of the pan.
Now add cream and cook for 2 mins, add spinach paste and cook for another 5-7 min.
Finally add lemon juice, and salt cook for another 2-3 minutes.
Pour curry onto the koftas at the time of serving.

Serve hot Palak kofte with the Khasta Rotis  or the rotis of your choice . 
---