Shahi Aloo Ka Halwa
हिन्दी में पढ़ें
Potato (aloo) ka halwa is a delicious dessert preparation. This is a phalahari dessert and can be eaten in the days of fasting as well. I remember my grandmother used to make this halwa for Ekadashi vrat.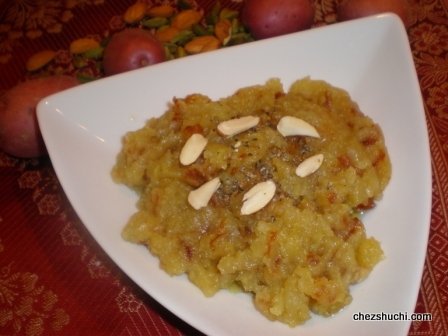 Ingredients

(serves 4)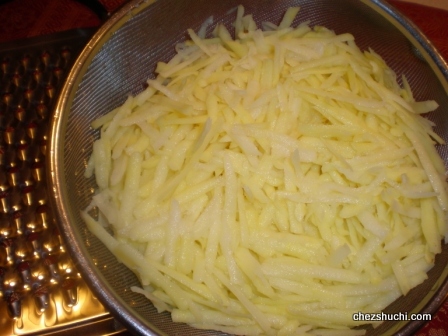 Potatoes 500 gms

Sugar about ½ cups
Ghee 2 tbsp
Green cardamoms 2
Slivered almonds 1 tsp


Method of preparation
Remove the outer green cover of the cardamoms and grind them in the mortar.
Peel off the potatoes, wash, and grate the potatoes and wash them again.
Now leave the grated potatoes on the strainer to remove the extra water.
Heat ghee in a non stick wok and add grated potatoes. Fry the potatoes for couple of minute.
Now reduce the heat and cover the lid. Cook the potatoes till they get tender. Takes about 10 minutes. Do not forget to stir occasionaly.
first look of grated potatoesin the wok potatoes after 10 minutes of cooking
Mash the potatoes with a ladle. Now cover the lid and cook the potatoes for another 10 minutes.
Add sugar and mix well. Cook the potatoes for 5 more minutes on medium heat. Turn off the heat.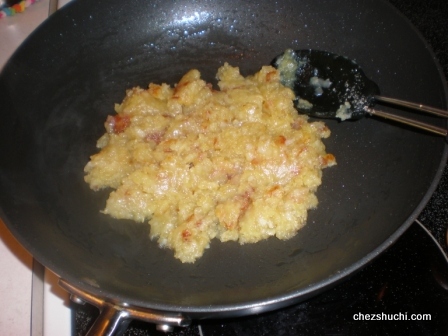 after mixing the sugar in
Add cardamom powder. Aloo halwa is ready.
Garnish with slivered almonds.
Delicious potato (aloo) halwa is ready to serve.
You can also make this halwa with boiled potatoes. The more ghee you add the halwa will be tastier ...I have used non-stick wok for this recipe - potatoes can become quite sticky and a non-stick surface works best if you are trying to cut the amount of ghee.
Do not use very fine grater as finely grated potatoes may leave water at the beginning. I have shown the grater in the side picture for your convenience.
Some more Fasting (Vrat) recipes
---