Aate Ke Laddoo
हिन्दी में पढ़ें
These wheat flour (aata) laddos are a very delicious and healthy preparation. The edible gum enhances the flavor of the ladoos and is good for health especially in winter time as they are warm in tendency.  On the auspicious festival of Diwali make aate ke ladoos this time …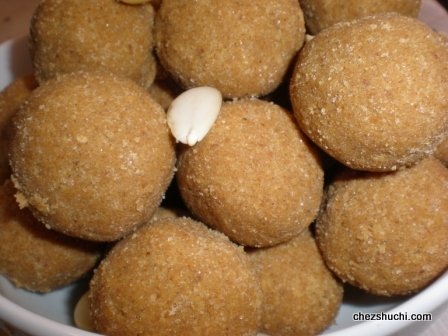 Ingredients

(makes 20)
Aata (wheat flour) 2 cups

Ghee ¾-1 cup

Sugar    1 cup
Almonds     ¼ cups

Edible gum 2 tbsp
Method of preparation
Finely chop the almonds or grind them in the grinder.
Heat ghee in a wok on medium heat. Now deep fry the edible gums for a minute. Keep aside. After deep frying gums will be double in size
edible gums gum frying
Now grind the fried edible gums in the grinder or in the mortar.
fried edible gums ground ededible gums
Now in the same wok (with the ghee) add wheat flour (aata). Fry the flour on medium heat for about 10 minutes.
just after adding the flour in ghee" after 10 minutes of fring
Reduce the heat and fry flour until you smell a nice aroma. We want nice red color of flour so make sure it doesn't burn. Stir continuously. (takes around 15 minutes).
grounded almonds and gum added after adding sugar
Now add chopped/grounded almonds and edible gums. Fry the mixture for a couple of minutes. Turn off the heat. Keep aside.

When fried flour is still little lukewarm but not hot, add sugar and mix well.

Take about 1 full table spoon mixture and make round ball between your palms as shown in following pictures.
roll the mixture in your palm laddo is ready
Delicious and healthy aate ke ladoos are ready to serve. These laddoos can be stored in airtight container for a month.
---