इन्द्रधनुषी सलाद
हिन्दी में पढ़ें
Fruits and vegetables are natural sources of vitamins, minerals, fibers and antioxidants. The World Health Organization recommends having 4-5 portions of fruits and vegetables every day. Indian nutritionists also advice to have a half percent of fruits and one percent of vegetables of your body weight daily to get a healthy life. It means if your body weight is 60Kg then you should have 600 grams of vegetables and 300 grams of fruit every day. To get all sorts of nutrients and vitamins one should have various colors of fruits and vegetables. It is better to get locally grown seasonal produce. Salads are the best way to stay cool in summer.
We don't have many locally grown fruits in our part of the world. I prefer to buy whatever is organic, fresh, and economical. The grapes and mangoes I have used in the salad were sour, so I added a hint of sugar along with salt. Avocados make the salad creamier. I added a little bit of lemon juice, which gave the perfect blend of taste to avocados I added to the salad. Cucumber, bell pepper, sweet pepper and mint are growing in abundance in our kitchen garden so I added them in the salad to enhance the freshness and taste.  
Please do not worry too much about specific fruits or vegetables to be added to the salad. Go local and seasonal. Adjust the ingredients of the dressing as per the taste of produce you are using.
Get an idea from this salad recipe and make your own salad as per availability. Please do share your thoughts and comments. Best, Shuchi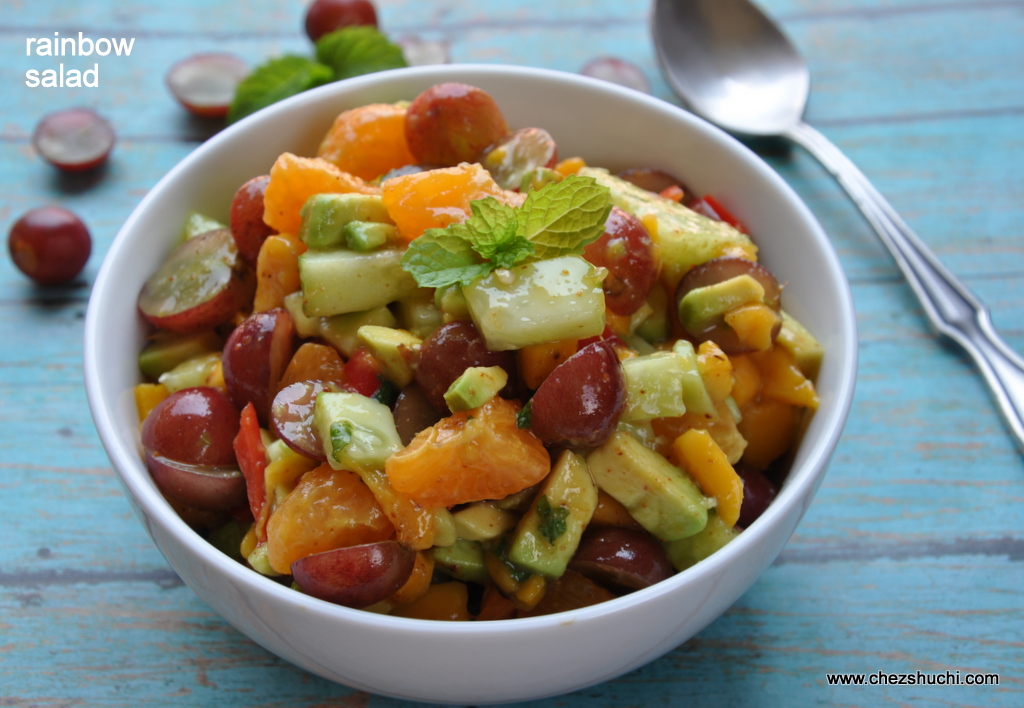 Preparation Time: 5 minutes
Approximately 150 calories in each serving
Ingredients (Serves 2)
1 Mango
1 Avocado
1 Cucumber
2 Red sweet pepper
1 Clementine/Orange
Grapes about 1 cup
1 tsp brown sugar
2 tsp lemon juice
½ tsp salt or to taste
Method of preparation: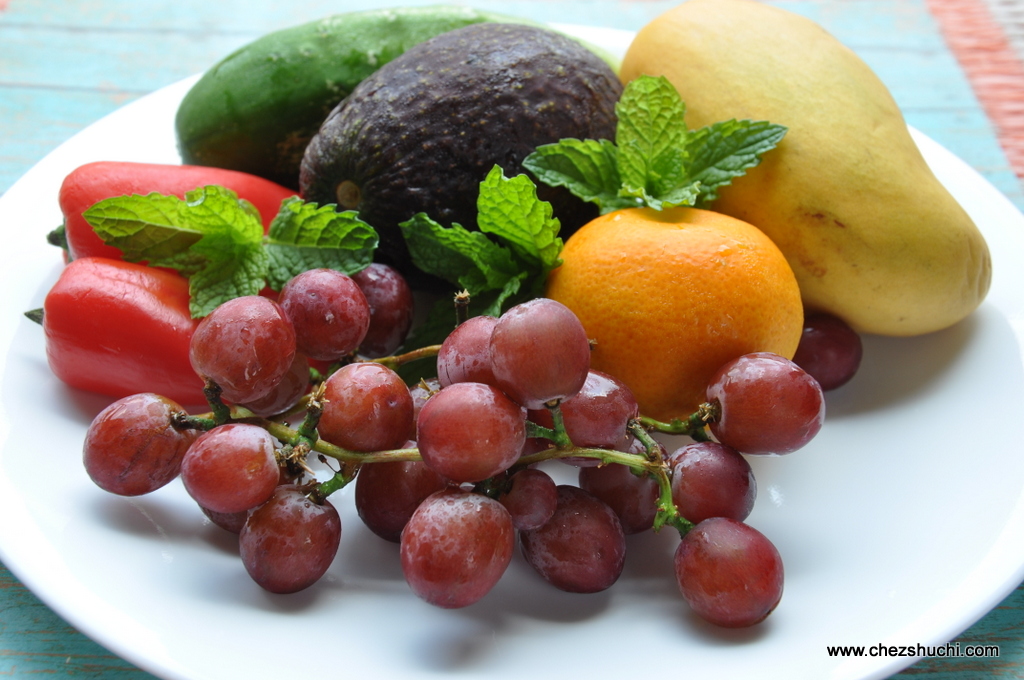 Above picture shows the assorted seasonal fruits and veggies that I have used for the rainbow salad.
Cut the grapes in half. Peel and cut mangoes, cucumber, and avocado in half inch pieces. Discard mango and avocado seed.
Finely cut sweet pepper.
Peel the clementine/oranges. Remove every slice and cut each slice in half.
In a big bowl take take all the fruits and vegetables. Add a hint of salt, lemon juice and sugar. Mix well. Add in chopped mint leaves. Taste and adjust the seasoning.
Delicious and nutritious rainbow salad is ready to serve.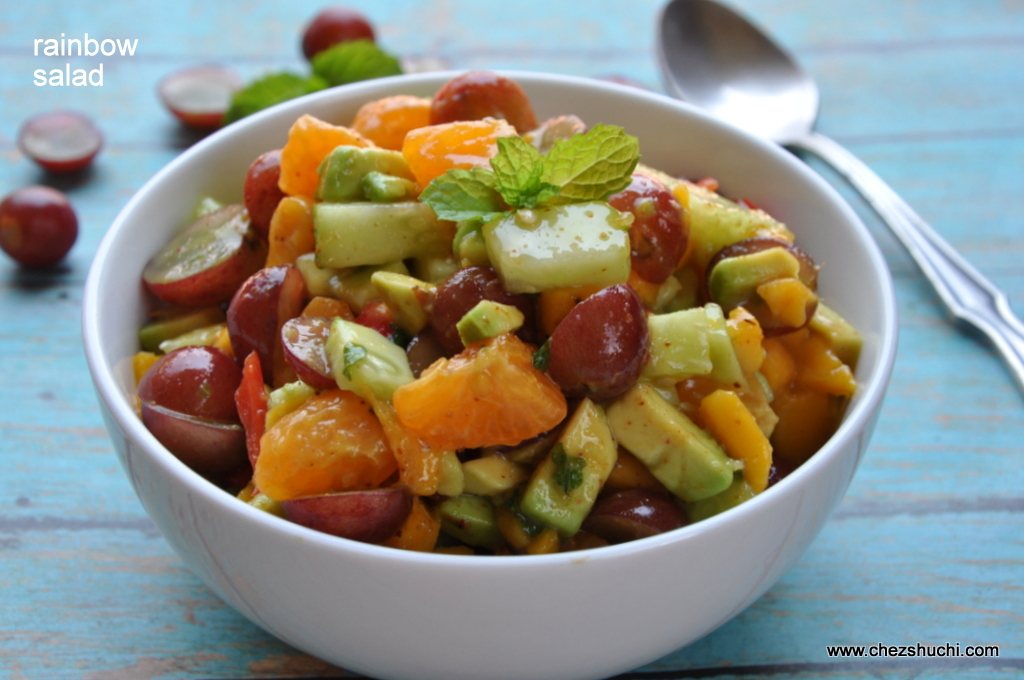 Some Tips/ Suggestions:
You can use any fruits or vegetables easily available in your part of the world.
Adjust the amount of lemon juice as per sourness of fruits.
You can also add black pepper or chaat masala as per taste.
Some chopped nuts or berries can also be added in this salad.
---
---