मेवे और खजूर के रोल्स
These date and nut rolls are super delicious, healthy, and easy to make dessert. These are made with assorted nuts (I have used almonds, pecans, cashews, and pistachio) along with dates. These rolls are delectable and are a good source of protein, dietary fibers, and minerals such as potassium, calcium, magnesium etc. Nuts are rich in healthy fats and are considered essential for a healthy heart.
For binding the rolls and to add to the sweet flavor, I have added dates. Dates are rich in iron, dietary fibers, and antioxidants and are naturally sweet.
You can take nuts and dried fruits as per your taste and availability. Usually, it is easier to bind and shape the rolls if you take similar quantities of nuts and dried fruits, however, you can make changes as per your taste. I like to add more nuts and go easy on the dates.
These rolls are also healthy for diabetics as we haven't added any additional sugar. It is super easy to make these rolls. Try this recipe and please do share your valuable comments. Happy cooking, Shuchi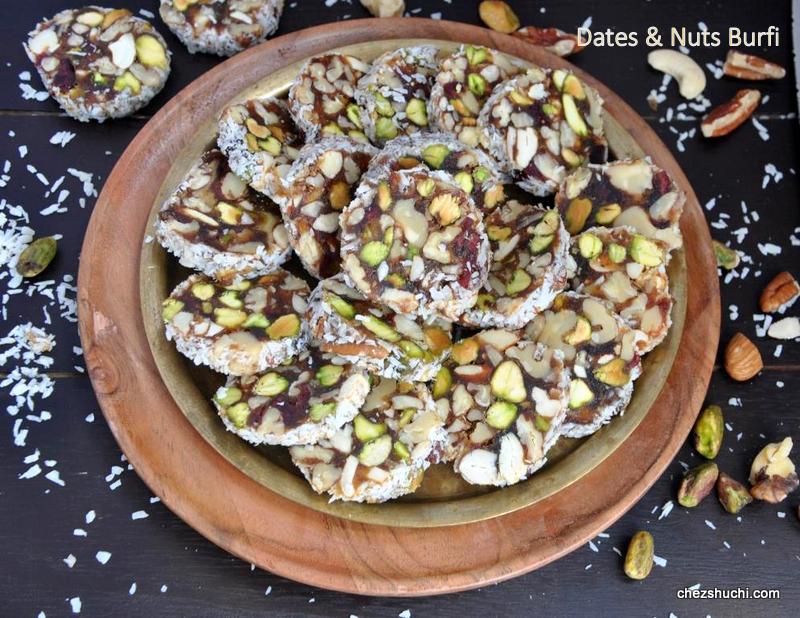 सामग्री
1¼ कप मिले जुले मेवे कटे हुए (बादाम, काजू, पिस्ता, अखरोठ आदि)
1 कप खजूर, बीज हटाकर छोटा-छोटा काट लें
¼-½ नारियल बुरादा
बनाने की विधि:
रोल्स बनाने की सामग्री- मिले जुले मेवे, खजूर और नारियल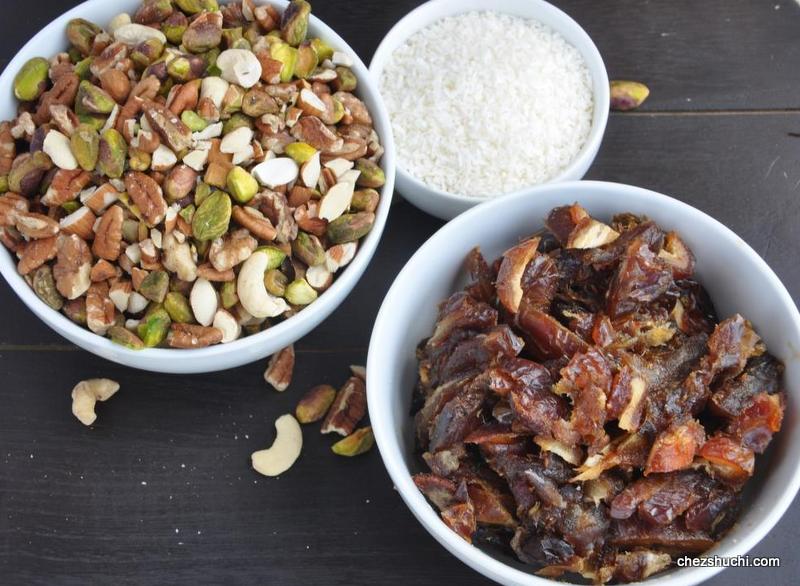 भारी तली की कड़ाही गरम करें। अब सभी मेवे सूखे भून लें। मेवे भूनने की भीनी भीनी खुशबू आती है। भुने मेवे को निकालकर अलग रखें।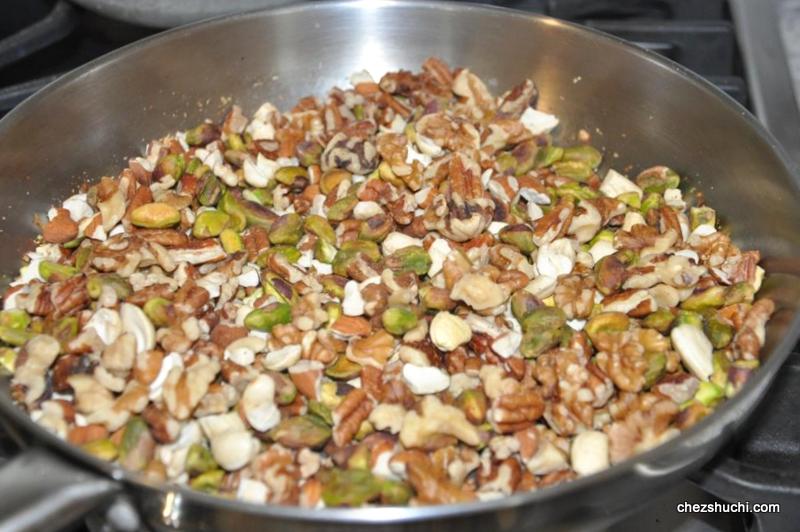 अब कड़ाही में कटे खजूर डालें और भूनें। खजूर धीरे धीरे गर्मी से पिघलने लगेगा। लगभग दो तीन मिनट में खजूर अच्छे से पिघल जाएगा।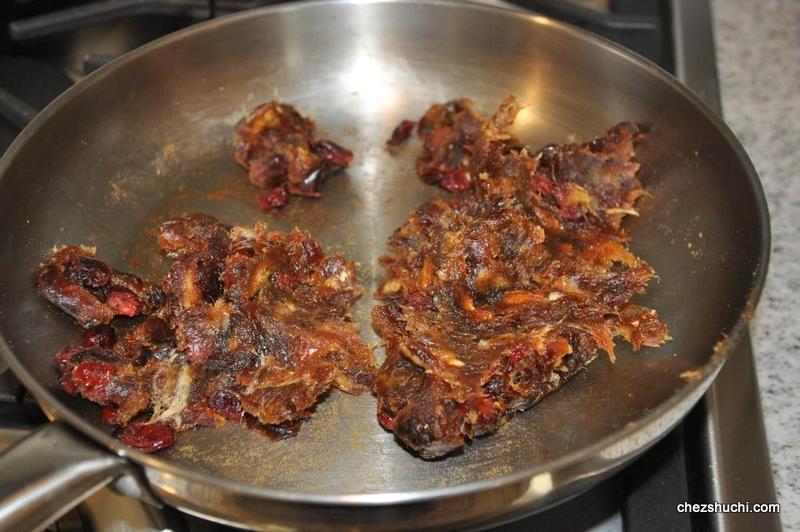 अब खजूर में भुने मेवे डालें। अच्छे से मिलाएं। दो मिनट के लिए पकाएं और फिर आंच बंद कर दें। 5 मिनट के लिए इस मिश्रण को ठंडा होने दें।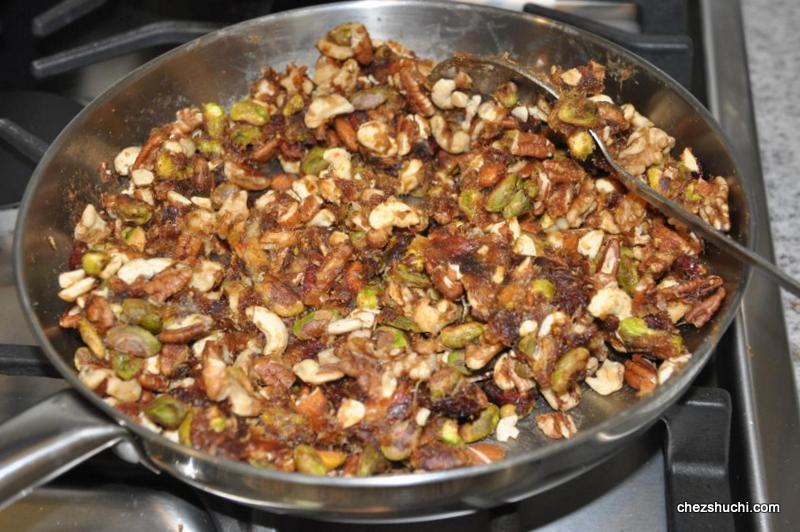 अब मेवे का मिश्रण लें। इसको हाथ के बीच में रोल करके रोल बनाएं। अब इसे नारियल के बुरादे में लपेटें और अलग रखें। इसी प्रकार पूरे मिश्रण से 4-5 रोल बना लें। सभी रोल को अलग रखें ठंडा करने के लिए।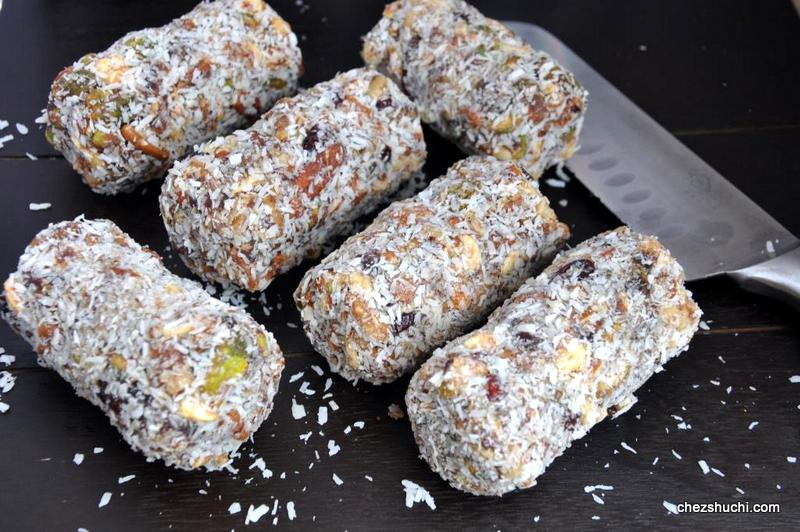 अब रोल्स से गोल गोल पतली चकली या बर्फी काट लें। स्वादिष्ट और पौष्टिक मेवे की बर्फी तैयार है। मधुमेह वाले भी इन मिठाई को ख सकते हैं। बिना फ्रिज के भी हफ्ता भर इस बर्फी को आराम से रख सकते हैं।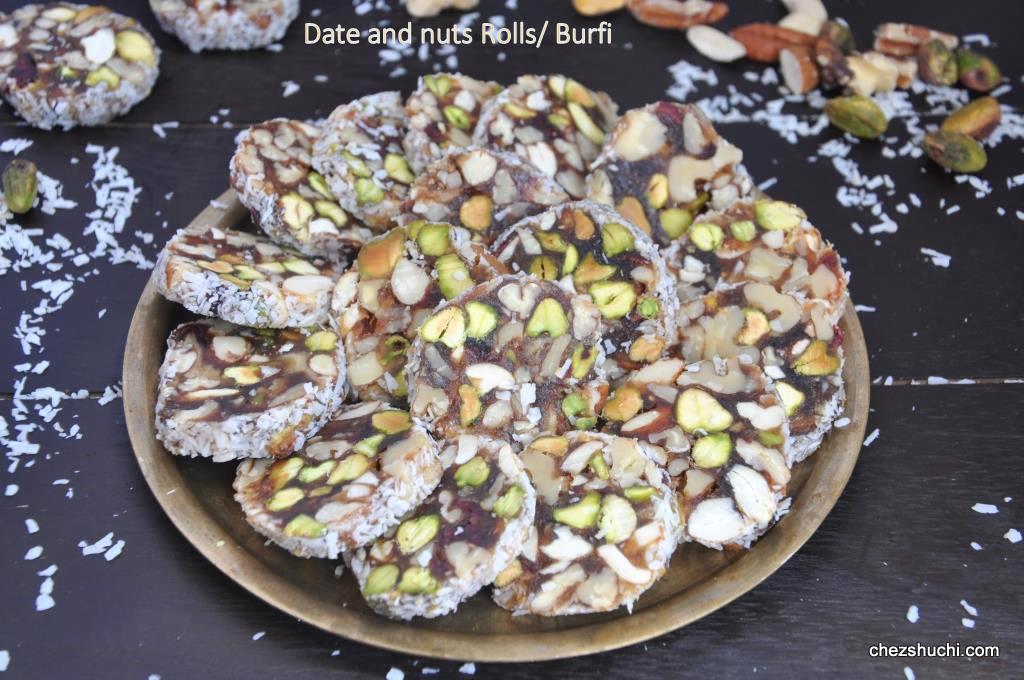 Some Tips/ Suggestions:
You can also use some other dried fruits like cranberries, raisins, figs, etc
I also like to add chia seeds to add flavor and improve the healthy quotient. Chia seeds are rich in antioxidants and omega 3 fatty acids.
---
Some other Fasting/Upvas recipes
---