Tehri
हिन्दी में पढ़ें
Tehri is a rice preparation with seasonal vegetables. It is very popular in north India and mainly in Uttar Pradesh(UP). It is a delicious rice preparation, and is especially enjoyable in winter months when we have fresh carrots, peas etc. There are various ways to make tehri -- while some people like to add soya nuggets in the tehri, others like it with mangaudi (moong dal balls). It can be served as a complete meal with curds (yogurt)....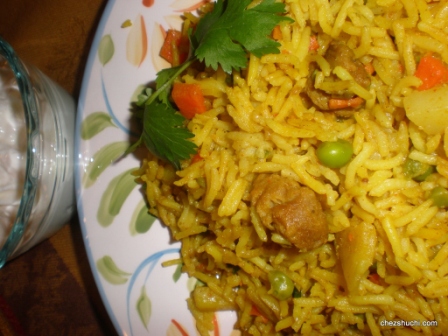 Ingredients

(serves 4)
Basmati rice 1 cups
Soya nuggets ½  cup

Potato  1 medium
Carrot   1 medium
Green bell pepper/ capscium   ¼ or ½ cup chopped

Green peas ½ cup

Onion  1 medium
Green chili    1

Salt 1½ tsp/ to taste 
Red chili powder ½ tsp

Turmeric powder   ½ tsp
Coriander powder   2 tsp
Garam masala          ¼ tsp

Chopped coriander leaves  2 tbsp

Ghee /oil  2  tbsp
Method of preparation
Clean, wash, and soak rice in two cups of water for 15 minutes.
Soak the soya nuggets with little salt in the warm water for 15 minutes. Squeeze off the water and keep the nuggets aside.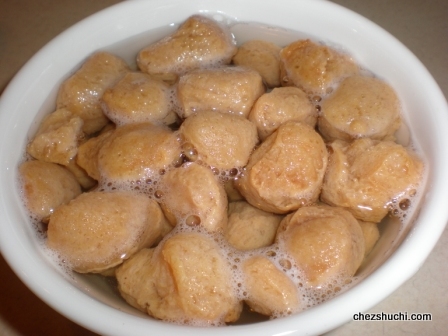 Soyabean nuggets soaked in saline water
Peel off, wash and chop the onion. Remove the stem, wash and chop the green chili.
Peel off, wash and chop the potato,bell pepper, carrots into small pieces.
Heat oil in the pressure cooker, add onions and , fry until translucent. Now add green chili and all the spices and fry for few seconds. Add all the vegetables and soaked soya nuggets, fry for a minute.Add rice and mix well. Add more water if needed. ( usually the ratio of rice and water is 1:2). After the first boil close the lid and take a whistle.
Garnish with coriander leaves.

Serve with plain yogurt or Raita of your taste.My children love tehri with meethi chutney.
Suggestions For Kid's Lunch box:
Tehri has carbohydreate, vitamins, proteins, and also some minerals. So it is an ideal Lunch box meal for kids as well as adults...You can add more veggies as per taste in your tahri preparation. Some pieces of paneer can also be added in this dish. With Tahri there is some salad and a piece of chikki (peanut bar)!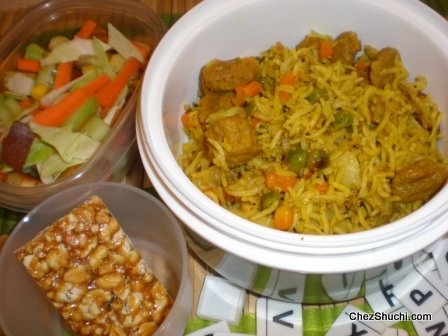 Some other Kid's Lunch box ideas
---