Desi Style Sandwich
हिन्दी में पढ़ें
This is a North Indian style of sandwich, made with potato masala. This sandwich makes a hearty breakfast item. You can also make it for kids' lunch box, for evening snacks, or even for weekend picnics. Use whole wheat bread to make the healthier version ……..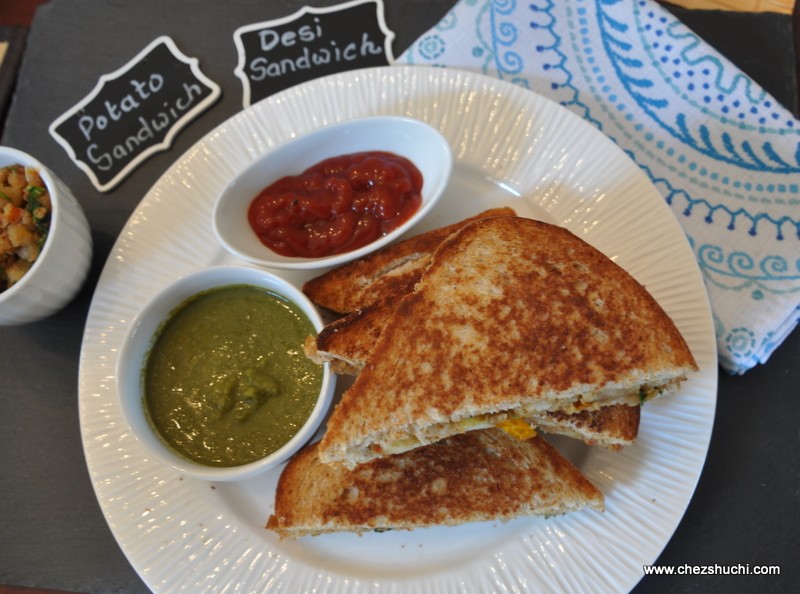 Ingredients

(Makes 4 Sandwich)
For Filling :
Boiled potatoes 5 small/250 gms
Onion 1 small
Tomato 1 medium
Green chili 1
Cumin seeds ½ tsp
Salt ½ tsp/ to taste
Red chili powder ¼ tsp
Coriander powder ½ tsp
Garam masala ¼ tsp
Chopped coriander leaves 1 tbsp
Oil 1 tbsp
For Sandwich:
Bread 8 slices
Butter to brush

Method of preparation
Peel off the potatoes, and mash them properly.
Peel off the onion, wash and chop finely. Wash and finely chop the tomato. Remove the stem, wash and finely cut the green chili.
In a nonstick pan heat oil, add cumin seeds. When seeds stop crackling, add chilies and chopped onion. Fry until golden red. Takes about 3-4 minutes.
Add chopped tomatoes and fry for another 2-3 minutes. Now add coriander powder, red chili powder, and salt. Fry until masala leaves the sides of the pan.
Now add mashed potatoes & garam masala and fry for 2-3 minutes. Turn off the heat.
Add chopped coriander leaves. Potato filling is ready.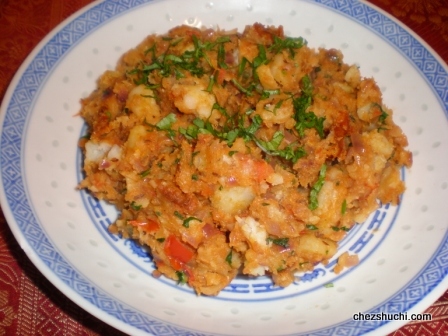 potato filling for sandwich
Heat a flat griddle. Take a bread slice, spread a layer of potato filling on the bread, and then cover with another slice of bread to make the sandwich.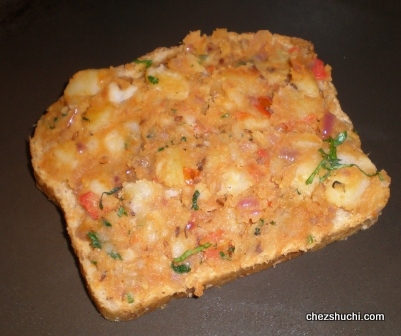 bread slice layered with potato filling
Now grease the griddle with a little butter and place the sandwichon it. Cook on medium to low heat. Grease the other side of the sandwich, flip the sandwich and cook.
You can also make the sandwich in the sandwich toaster or in the grill.
Delicious Sandwich are ready to serve. Cut the sandwich diagonally. Serve with tomato ketchup or may be with pudina chutney.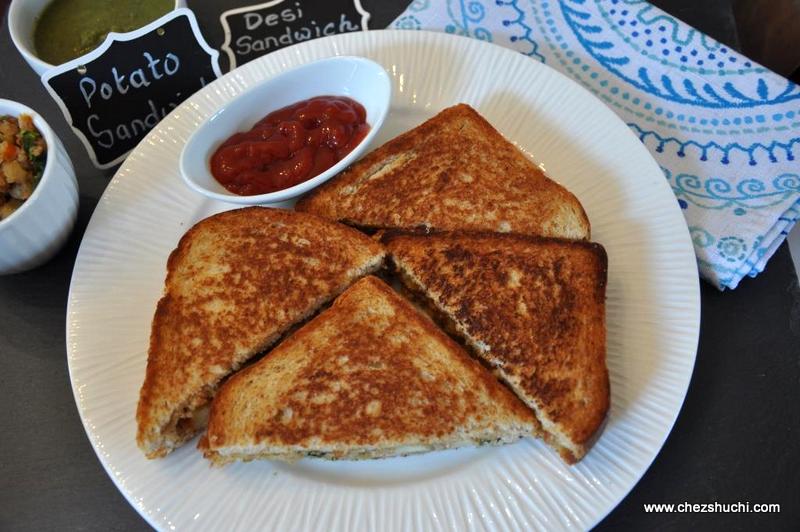 Sandwich
Some Tips/ Suggestions :
If you do not eat onions, make the potato filling without onions; it tastes equally good.
I have used whole wheat bread for the preparation of sandwich.
Suggestions For Lunch boxes:
This a perfect lunch box dish for kids. Use whole wheat bread to make the healthier version . Pack some carrots and cucumber sticks and may be some ketchup or mint chutney as per your kids taste.......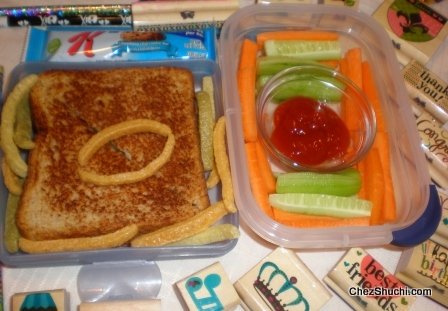 Some other Kid's Lunch box ideas
---