Chana Sprout Salad
इस व्यंजन को हिन्दी में पढ़ें
Sprouts are germinated seeds. Sprouts are tremendous source of digestive enzymes; they are also rich in amino acids, vitamins, proteins etc. The sprouts can be easily made at home. This is a delicious black gram sprout salad preparation. Sprouts can be an ideal breakfast, but can be served anytime ....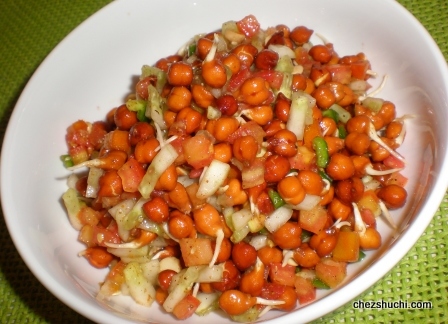 Method of preparation
Clean, wash and soak the black/ bengal gram overnight in two cups of water.
To make sprouts
Remove the water from the soaked black gram, and keep them in the warm place in the soup sieve by covering it with a clean towel for a day. It start germinating in 10-12 hours and it also depends on the weather . Chana/ gram seeds takes longer time than moong to germinate. Do not forget to wash the seeds twice a day to avoid any infection. Tip : In winters, keep them close to heating duct or radiator.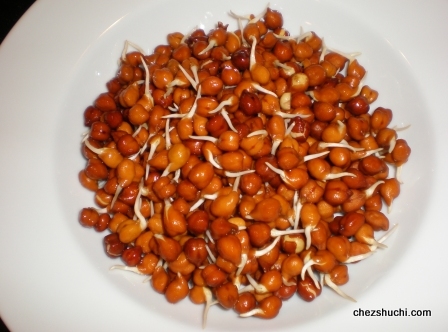 Sprouted gram seeds
Wash, peel off and chop the cucumber finely. Wash and chop tomato finely. Peel off boiled potato and chop finely.
Remove the stem, wash and finely chop the green chili.
Mix all the ingredients in a bowl.
Chana sprout salad is ready to serve.
This salad can be served in the morning breakfast, with the meals or in between the meals.
---