Phalahari Bhel
हिन्दी में पढ़ें
Peanuts are good source of Protein; they are rich in magnesium, copper and iron too. And makhane (puffed eurale ferox) are rich in carbohydrate. A very simple recipe to make phalahari bhel at home with nice combination of crispies. Note that this recipe does not contain Bhel or Layya - which is the base of bhel-puri ! Since usual grains like rice are not eaten in vrat, therefore we are making a bhel without bhel!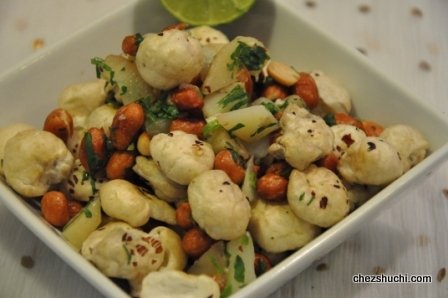 Ingredients

(serves 4)
Raw peanuts ¾ cups
Puffed euryale ferox 2 cups
Sendha Namak (rock salt) 1 tsp
Green chilies 2
Boiled Potatoes 2 medium
Lemon juice 1 tbsp
Chopped coriander leaves 1 tbsp
Oil/ghee 2½ tsp
Method of preparation
Heat 1½ tsp oil/ghee in a skillet, add peanuts. Fry  peanuts on medium heat till they stop spluttering and are dark red in color. Takes about 10 minutes. Keep the aside.
Now in the same skillet heat about 1 tsp ghee/ oil, add makhane (puffed eurayle ferox ) . Fry till makhane are crisp. Takes about 2-3 minutes. keep aside to cool down.
Peel off the boiled potatoes, and cut them into small pieces.
Wash, remove the stem and finely chop the green chilies.
In a bowl take roasted peanuts, makhane, potatoes, sendha salt, green chilies, chopped coriander leaves , mix them well . Now add lemon juice and mix well again.
Phalahari bhel is ready to serve.
Serve immediately the crispy, phalahari bhel.
Raw peanuts and Makhane (puffed eurayle ferox) are easily available in Indian stores, though I haven't seen them in local supermarkets.
click here for more Fast( vrat/ upwas) recipes
---