Meetha Daliya
हिन्दी में पढ़ें
Cracked wheat, also known as daliya, is a good source of fibers.  There are different savory preparations, desserts, and salads, that are made out of cracked wheat. This is a delicious dessert preparation that can be served for breakfast, as a dessert, or even as a complete meal. Daliya is also a good choice if you are looking for something light…….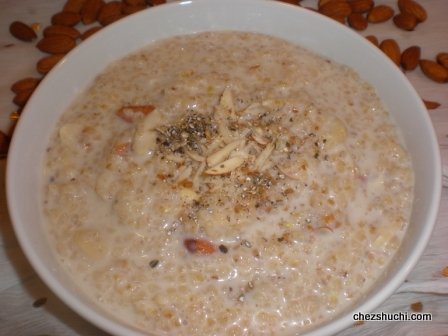 Ingredients

(Serves 4)
Cracked wheat 1/3 cups
Ghee 1 tsp
Water 2 cups
Milk 2 cups
Sugar about ¼ cups
Almonds /walnuts ¼ cups
Green cardamoms 4
Method of preparation
Slice the Almonds .
Remove the green skin of the cardamoms and grind the seeds.
Heat ghee in a pan on medium heat, roast the cracked wheat  on medium heat till the Dalia gets golden red . (takes 3-4 minutes).
Cracked wheat cracked wheat ( daliya) after roasting
Now add water , mix well and take a boil. After the first boil reduce the heat and cook the cracked wheat till it gets tender. The best way is to take a whistle in the pressure cooker. Takes about 10 minutes.
Cracked wheat with water boiled cracked wheat ( daliya)
Now add milk and mix well. Take a boil and add dry fruits. Cook for 3-4 minutes.
Now add sugar, mix well and cook for another minute. Turn off the heat. Add ground cardamom.
Let the daliya (cracked wheat dessert) cool down.
Now meetha daliya (porridge) is ready to serve. It can be served in morning breakfast, or as a dessert, or even as a complete meal if you are looking for something light.
Some Tips/ suggestiona:
Do not add cold milk in the hot cracked wheat, as milk may curdle.
---