Marinara Sauce
हिन्दी में पढ़ें
Marinara is an Italian sauce made of fresh Roma tomatoes, herbs, onions, and garlic, flavored and seasoned with freshly ground black pepper and salt. In India Marinara sauce is often called as Italian tomato sauce. In the USA Marinara sauce is extensively used. One can easily find bottled marinara sauce in the supermarkets, but nothing can beat homemade food.
Homemade sauce is fresher, more aromatic, healthier and certainly tastier. I make marinara sauce with fresh tomates and Italian herbs when my garden is in full swing with tomatoes and freeze it for the winter when organic tomatoes are very expensive. Marinara sauce is used in pizzas, pastas etc. I have made some alternations in the recipe to make it easier, faster, a little healthier and even tastier. Please try this recipe and as always do share your comments. With best wishes, Shuchi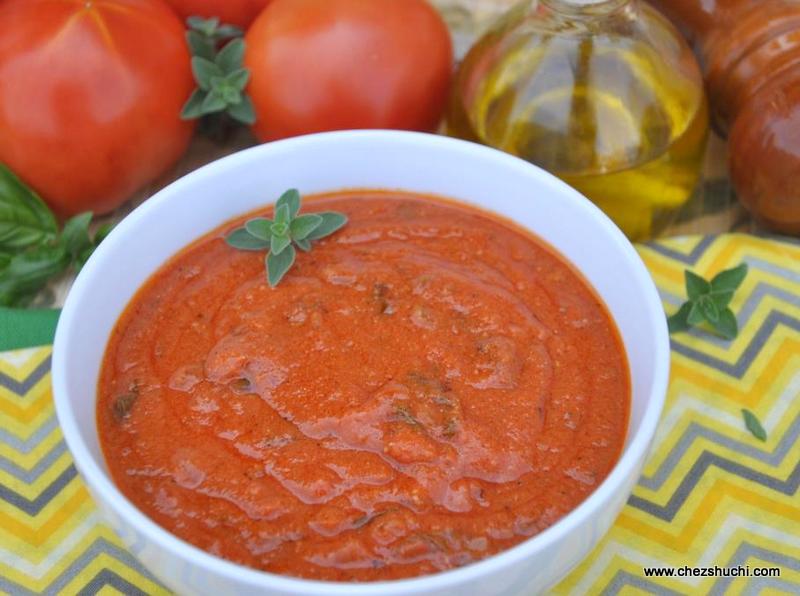 Ingredients (makes about 3 cups sauce)
Red Roma tomatoes 1 kg/ 2 pound
Carrots 2 medium
Olive oil ¼ cup
Red onion 1 medium finely chopped
Basil leaves hand full about 1 cup leaves
Fresh oregano leaves 2 tbsp or dried oregano powder 1½ tsp or to taste
Salt 1½ tsp or to taste
Black pepper, Freshly ground to taste
Red chili flakes to taste
Sugar 1 tsp (optional)
Method of preparation
Wash and cut each tomatoes into 4 quarters. Wash, peel and cut carrots in one inch pieces.
In the blender take tomatoes and carrots pieces and puree them.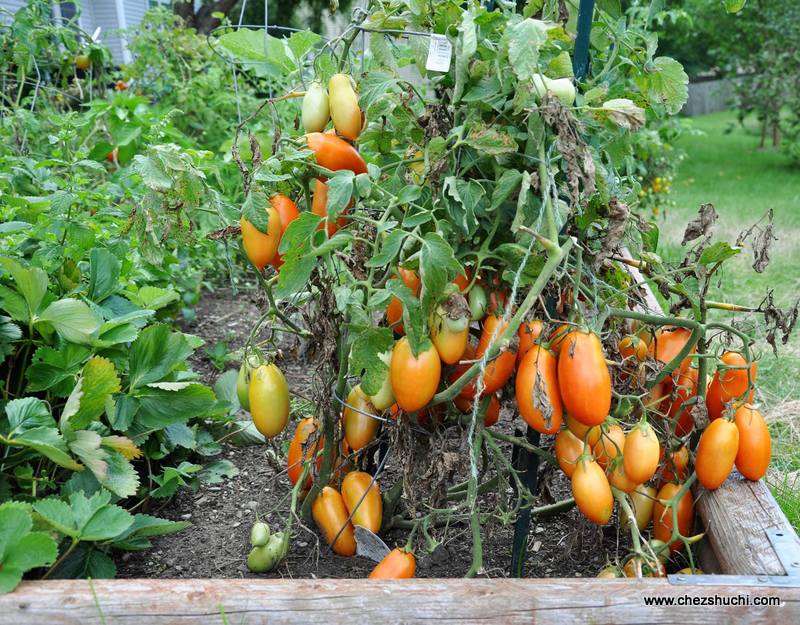 homegrown roma tomatoes
Wash and chop the basil leaves. (instead of chopping I like to tear the basil leaves by hand). If you do not find fresh basil leaves, use dried ones. Wash the oregano leaves. You can also use dried oregano leaves.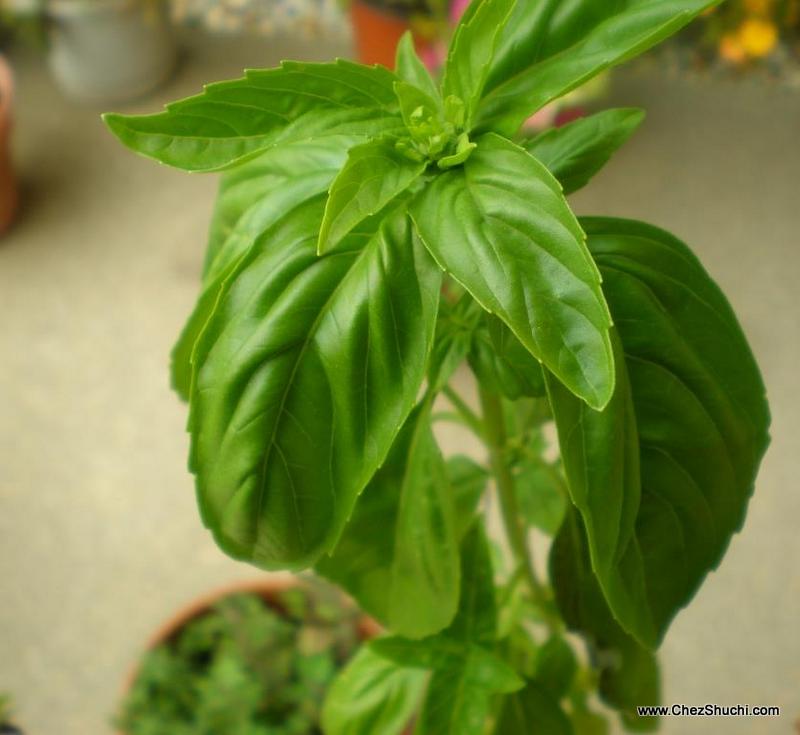 homegrown basil leaves
Heat olive oil in a pan/wok. Add finely chopped onions. Sauté for a minutes or until onions are translucent.
Add tomato and carrot puree, salt, red chili flakes, and freshly ground black pepper in the sautéed onions. Mix well.
Mix well and let it cook on medium to low heat for about 20-25 minutes or until the sauce is thick and smooth. Add basil leaves and oregano. Mix well.
You can add a hint of sugar if the sauce is too sour. I like to add a little sugar in this sauce.
Marinara sauce is ready to use. It can be sored in the fridge for a couple of days. You can also store it in the freezer and use it later.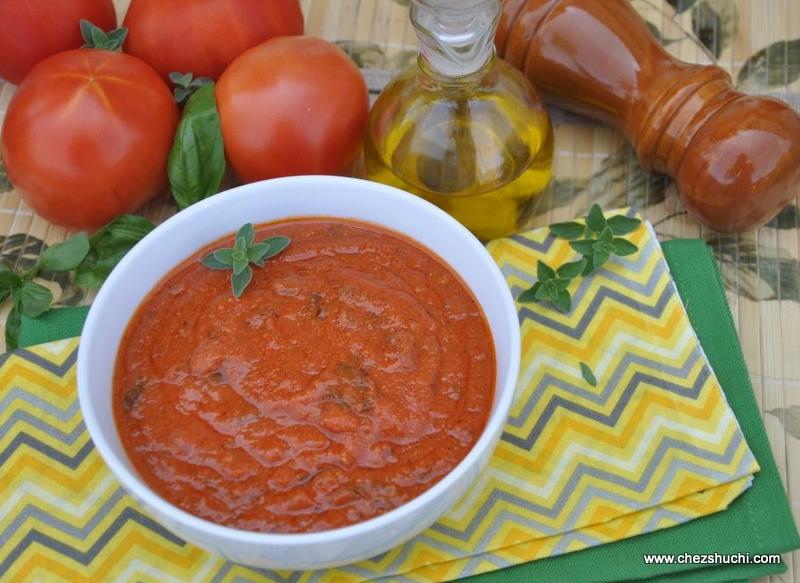 Use Marinara sauce in pasta or in pizza as required.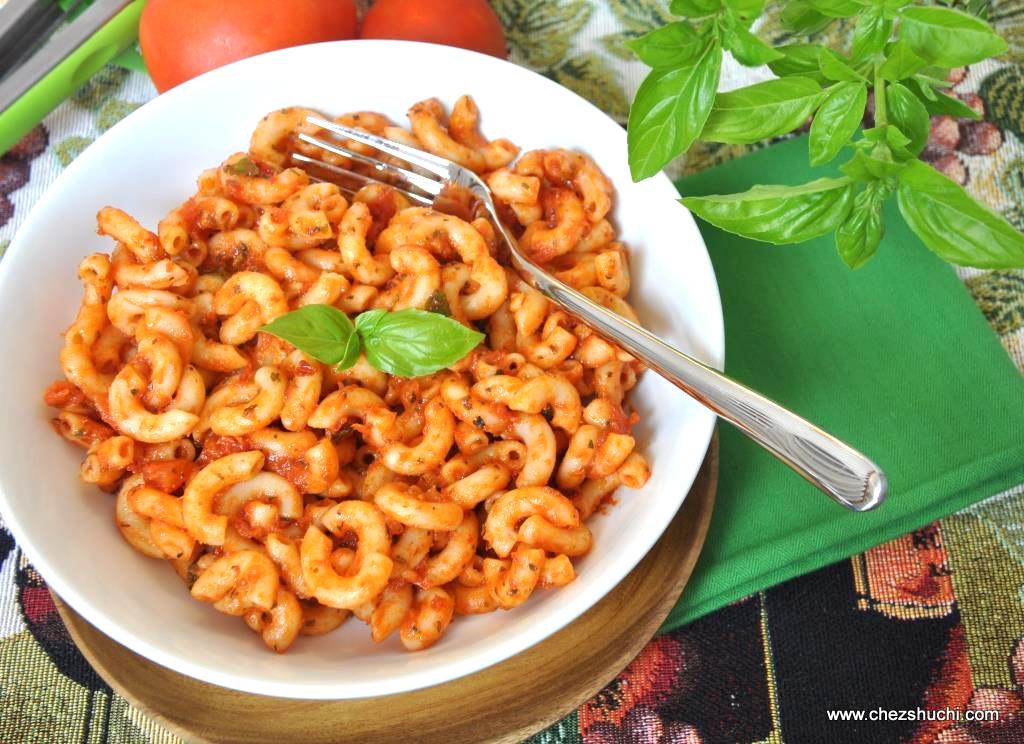 Some Tips/ Suggestions:
In traditional Italian cooking minced garlic is also used; since I do not use garlic in my cooking I haven't added it but feel free to add garlic with onions in the sauce.
I have used a couple of carrots to make this recipe mild and tasty and also to give a slight sweetness to this recipe. Carrot also helps in balancing the sour flavor of tomatoes.
You can add fresh hers or dried Italian herbs as per taste and availability.
You can easily grow Italian hebs at home from seeds or from a baby plant. Read more about vegetable gardening.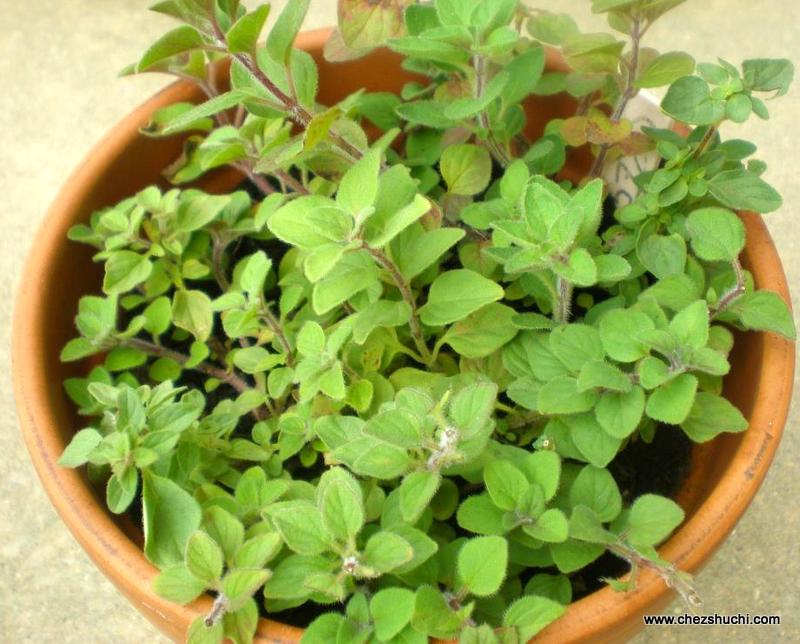 Home grown oregano.
---