Dahi ke Aloo
हिन्दी में पढ़ें
Dahi ke aloo/ potatoes in yogurt/curd is a yummy preparation, goes with kuttu and singhate ke cheele or poori. Yogurt is a good coolant and helps in the digestion of kuttu and singhara delicacies as they are hot in tendency (tasir). Yogurt is more commonly known as curds in India. In Hindi we call it दही (dahi). It is one of the best sources of calcium and is also rich in protein. Yogurt is eaten in most of the families during fast.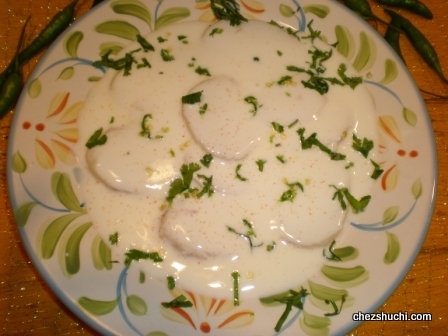 Ingredients

(Serves 4)
Boiled potatoes 5 medium
Yogurt(dahi)  500 gms
Sendha namak  1½ tsp
Green chilies 2
Red chili powder/Black pepper ¼ tsp
Chopped coriander leaves 2 tsp
Method of preparation
Peel off the potatoes and cut them into circles.
Wash, remove the stem, and finely chop the green chilies.

Beat yogurt add potatoes, salt, chopped green chilies and, red chili powder.Mix well.
Garnish with coriander leaves.




Delicious dahi ke aloo are ready to serve.
Serve with kutu ke cheele or Singhare ke cheele.
Variation: Dahi ke aloo can be served as accompaniment with regular meal; top with sev or some other crispies.
---