Chole
हिन्दी में पढ़ें
Chole are also known as Chickpeas or Garbanzo beans. Chole Bhature are the most popular Indian combo not only in India, but all over the world. There are many different recipes to make chole. I am writing the one I like most...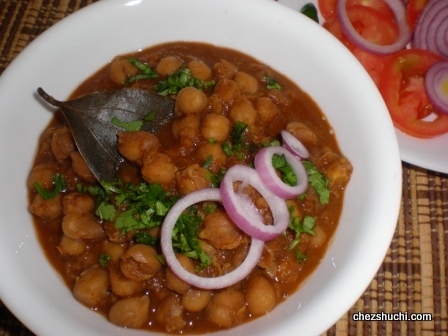 Ingredients

(serves 4)
Chick pea (Chole)  1 ½ cups
Tea bag    1
Salt   2 tsp or to taste  
Bay-leaves (tej patta)   2

Onion      1 big
Tomatoes  paste      2 tbsp
Ginger     1 ½ inch
Green chili     1

Coriander powder  2 tsp  
Garam masala 1 ½ tsp
Roasted cumin powder ½ tsp
Amchur powder ½ tsp
Oil/butter  2-3 tbsp
Chopped coriander leaves 2 tbsp
Method of preparation
Clean and wash  the chickpeas (chole). Soak the chic peas (chole) in  4 cup of water over night.
Boil the chole with 1 tea bag, bay leaves and 1 tea spoon salt in the pressure cooker on medium/low heat. (It takes around 20-25 minutes to get them tender) . Take 2-3 whistle.
Peel off, wash and roughly chop the onion. Peel off and wash the ginger. Remove the stem of the green chili.
Make a fine paste of ginger, green chili and onion in the blender.
Heat butter/oil in a pan and fry onion paste till it becomes golden brown now add garam masala, coriander powder, cumin powder, dry mango powder, and remaining salt, fry for a minute. Add tomato puree in the fried masala and cook until masala leaves the side of the pan.
Remove the tea bag from the boiled chic peas and add boiled chic peas in the fried masala  and cook for 10 minutes.

Garnish with coriander leaves.

Serve with bhaturas.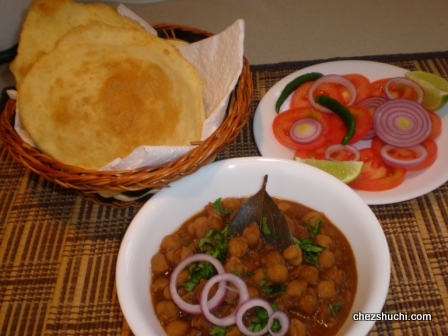 ---