Veg Chow Mein
हिन्दी में पढ़ें
Chow Mein is a Chinese stir fried noodles dish. Chinese cuisine is very popular in India and there are lots of variants of vegetarian Chinese delicacies. This is a delicious preparation for vegetable chow Mein….This dish is not only vegetarian but also vegan.....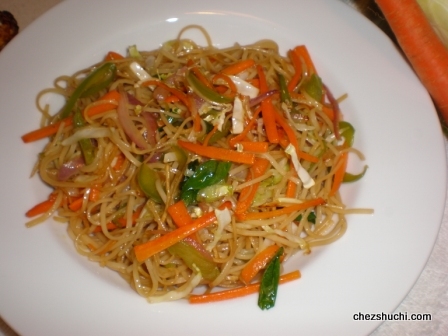 Ingredients


Cabbage, shredded 1½ cup
Carrot 1 / 1 cup shredded
Bell pepper 1 (capscium) / ¾ cups juliennes
Spring onion 2
Red Onions 1 medium
Instant wheat/ white noodles 3-4 ounce (about 100 gms)
Salt ½ tsp
White pepper, freshly grind ¼ tsp
Soy sauce 1 tbsp
Sugar ¼ tsp (optional)
White Vinegar 1 ½ tsp
Red chili flakes (optional)
Oil 2 tbsp
Method of preparation
Boil the noodles as suggested on the noodle packet.
Wash and cut the spring onions diagonally in about one and half inch long pieces.
Peel off, wash, and finely cut the juliennes of carrots.
Wash, peel off and cut the red onions in juliennes too.
Wash and cut the cabbage lengthwise.
Wash the bell pepper, cut in halves, take out the seeds, and cut in juliennes.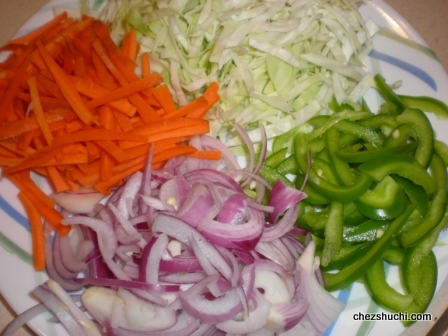 veggies for chow mein
Heat a wok, add oil. Now stir fry red onions for a minute on high heat.
Add carrots, and bell pepper and fry for another minute.
Now add shredded cabbage and fry for 20-25 seconds on high heat.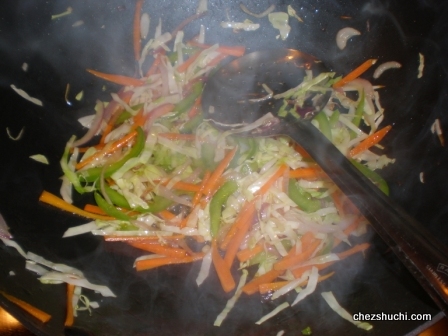 vegetable frying for chow mein
Now add spring onions, boiled noodles, soy sauce, salt, sugar,White Vinegar and freshly ground white pepper. Stir well for one to two minutes.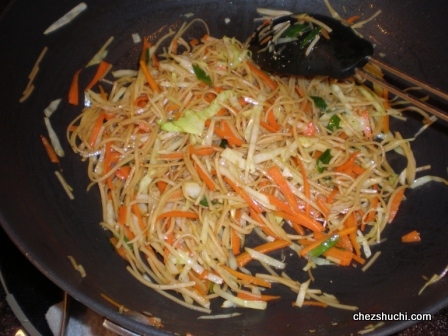 Delicious chow mein is ready to serve. Serve. You can also serve chow mein with veg manchurian.
Some Tips/ Suggestions
You can also add bamboo shoots, water chest nuts, baby corn, etc in the veg chow mein preparation.
For stir frying iron wok would be ideal. Do not use non stick woks for stir frying as frying is to be done on high heat and this can damage the non stick coating..
---