Thai Cuisine
इस पन्ने को हिन्दी में पढ़ें !
Cuisine-wise, Thai food is somewhere between Indian and Chinese food. It has delicious curries similar to Indian food, and it has stir-fries like Chinese food. In India, Thai cuisine is one of the most popular in International categories. Thai delicacies are usually spicy and probably that is why it satisfies the Indian palates.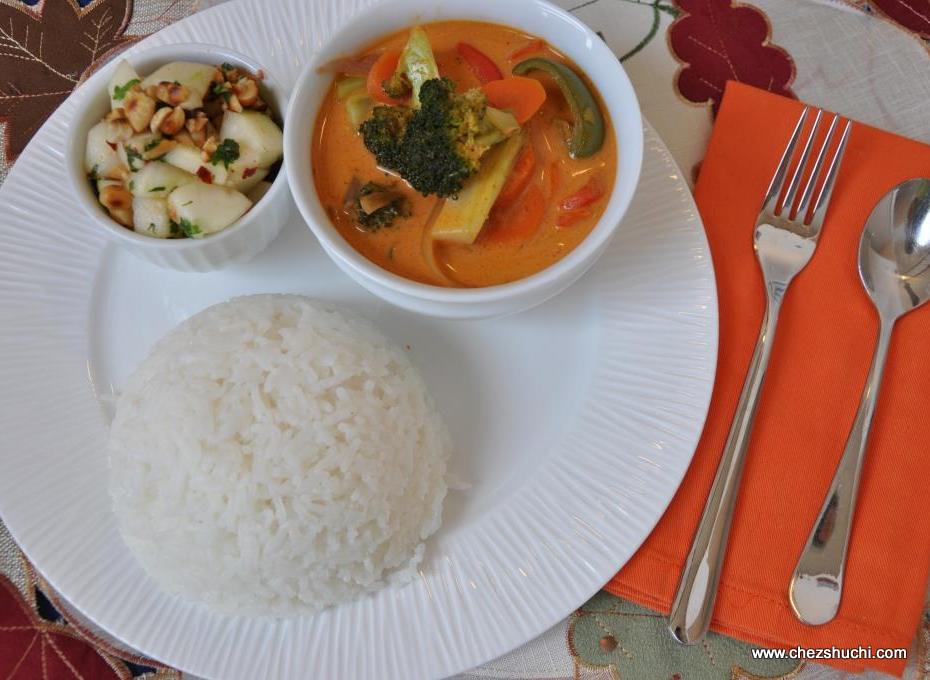 Thai cuisine has many vegetarian options. Commercially available Thai sauces and/or curry pastes may have meat ingredients, so watch out when you shop for Thai grocery.
Thai stir fries are not only delicious but also healthy. Also stir fried food takes very little time to prepare. Some tips to follow while you are making stir fries...
Keep all your vegetables ready for frying. All cutting, chopping, and measurement of the ingredients needs to be completed beforehand.
Fry more dense vegetables such as carrots and broccoli before frying the softer and leafy vegetables such as cabbage.
Since frying is done on a high heat, stir continuously or else vegetables may burn!
Some specific Thai ingredients are ...
Lemongrass– is a perennial herb used in Thai and some other Asian cuisine. It has very nice smell. Now-a-days, when Thai food is so popular around the world, fresh lemongrass is easily available at regular supermarkets.
Soya sprouts- are made out of soybeans and are longer than moong sprouts. These are crispier than moong sprouts and an important ingredient in Thai cuisine.
---
Fried Rice Thai Style-

This recipe simply came by chance! One beautiful evening I was all set to make Pad Thai on my daughter's request. I started gathering the ingredients, then only I realized that I did not have any rice noodles. Since Pad Thai sauce was already made so I looked around for the other options and noticed that I had enough of plain cooked rice in the fridge. I decided to give it a try with rice. The result was Fantastic and...

cucumber salad with sweet chili dressing and roasted peanuts-Cucumbers are a good source of vitamins and minerals. Super coolant cucumber can be easily found in the farmers market and supermarkets, and can also be easily grown in home garden, in containers in the balcony, sun room etc. This cucumber salad is not only very easy and quick to make …
Veggies in Thai Red Curry -

Thai red curry is made with shallots, garlic, galangal, lemon grass, coriander seeds, cumin seeds, and lots of red chilies, etc. This is a basic curry paste for many of the Thai preparations. In this curry paste coconut milk is added and cooked with meat or with veggies. I have added a bunch of veggies in this curry. This dish is hot and for sure very yummy…….



Thai Red Curry Paste-

Red curry paste is one of the most popular pastes used for many Thai delicacies. This is a real hot stuff, but you can always cut the spice level when making this paste at home. Red curry paste can also be bought readymade from Asian stores. ...



Pad Thai

-Pad Thai is a stir fried rice noodles dish. While this dish is generally made with a combination of meat, vegetables, and eggs, here we are making vegan Pad Thai with rice noodles, vegetables, homemade Pad Thai sauce, and herbs (coriander). Pad Thai is a delicious preparation and you can make it healthier by adding more vegetables. The level of spices can also be increased as per taste. Pad Thai is usually served with roasted peanuts and lemon wedges..

Green Curry Paste

- Green curry paste is one of the most popular pastes used for many Thai delicacies. This is real hot stuff, but you can always cut the spices when making this paste at home.

Vegetables in Green Curry

-This is a very delicious and healthy Thai green curry delicacy, with broccoli, red, green and yellow bell peppers, and carrots. There are a lot of other vegetables that can be used for this recipe.

Make_Your_Own Stir Fry-

Many of you must be familiar with the term stir fry. Stir fries are not only delicious but also healthy. Stir fried food takes very little time to cook although preparation takes a while. In America, there are some joints where you can pick your food from a wide range of rice, pasta, and noodles (carbohydrates) , tofu, soy nuggets, seitan (protein ), ....