Shahi Pulav
हिन्दी में पढ़ें
Shahi is a Hindi word for Royal. This is a royal rice preparation. Royal dishes have some special ingredients which are sometimes expensive for general people, like, dry fruits, paneer (cottage cheese) , Saffron, etc. This special rice dish is made with  lots of dry fruits and wholesome spices…..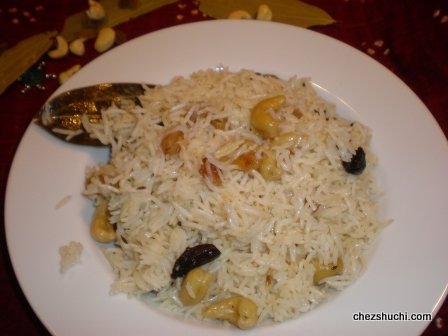 Ingredients

(serves 4)
Basmati rice 1 cups
Cashew nuts 1/3 cup
Raisins 2 tbsp
Bay leaves 2
Green cardamoms 5
Black cardamoms 4
Black pepper 8
Cloves 5-6
Ghee 2 tbsp
Water about 2 cups
Method of preparation
Clean, wash, and soak basmati rice in two cups of water for 20 minutes.
Now drain the water and keep the soaked rice aside. Do not discard the water as we will be using it to cook the rice.
Wash the raisins and keep aside.
Heat ghee ( clarified butter) in a pan on medium heat, add bay leaves, green and black cardamoms, cloves, and black pepper. Fry the whole spices till fragrant.
Now add cashew nuts and fry for few seconds.

Now add soaked rice, and raisins. Mix well and fry the rice for couple of minutes. Add water (usually the ratio of rice and water is 1:2 for basmati rice) . After the first boil reduce the heat and cook until rice are done. It takes about 15-20 minutes to cook the rice.
Some tips
You can also add some fried paneer (Indian cottage cheese) pieces to this royal rice preparation to give an additional taste.
You can also add some saffron milk (soak saffron threads in 1 tbsp milk) to this royal rice preparation. For that, when rice are half cooked add saffron milk in it here and there. After adding the saffron milk do not mix the rice; cook until rice are done. So the rice will have shades of white and yellow. I will post the picture with saffron very soon.
---