Paalak ka Saag
(Lentils with spinach)
हिन्दी में पढ़ें
This delicious saag is a very nutritious delicacy made with green mung split and spinach. Saag is usually a good source of iron and protein. This Saag can be served with rotis or even with rice.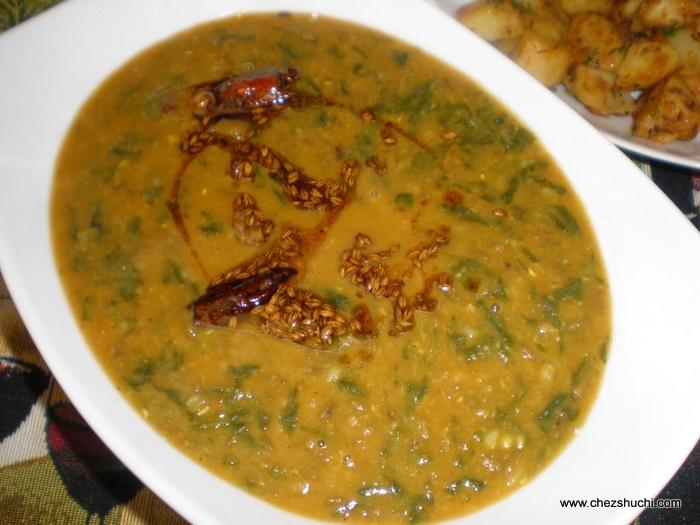 Ingredients

(serves 4)
Others:
1-2 tbsp ghee for serving
Method of preparation
Wash the lentil and soak in 1½ cups of water for ½ an hour.
Cookl the lentils with salt and turmeric powder until its tender (take a whistle in the pressure cooker).
Wash the spinach leaves, remove the thick stem and chop them finely.
Add chopped spinach leaves in the cooked lentils. Cookl for 8-10 minutes. (You can also take a whistle in the pressure cooker)
Make the paste of flour in the half cup of water and add the paste into the boiled spinach lentil saag.
Cook for 2-3 minutes. Stir continuously so sagg does not stick at the bottom of cooker. Keep aside.
Method of preparation For Seasoning
Peel off onion, wash and chop them finely. Chop the tomatoes finely.
In a wok heat ghee, add cumin seeds when cumin seeds crackle add asafoetida and red chili, fry for few seconds and add chopped onion. Fry the onion until it gets golden brown(takes 3-4 minutes) add chopped tomatoes and fry until it leaves the sides of the wok.(takes 3-4 minutes)
Pour the saag in the fried onion tomato masala, add garam masala, red chili powder and mix well cook for another 2 minutes now add lemon juice.
Saag is ready.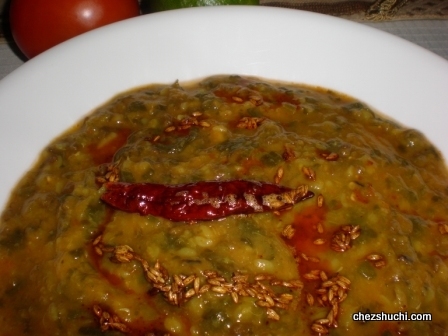 Pour hot ghee onto the saag at the time of serving. Serve hot saag with roti or Rice.
Some Tips
If you want saag can be ground roughly in the blender. Grind the saag after step 5 and before adding the seasoning.
Onion is an optional ingredient. You can also make saag without onions. It taste good !
---