हिन्दी में पढ़ें
Noodle Cutlets
Noodle cutlets is a yummy Indo Chinese appetizer. As the name shows these cutlets have been made with noodles, assorted veggies and boiled potatoes. To make these cutlets healthy, these have been cooked in very little oil. Try these delicious noodle cutlets and do not forget to share your comments.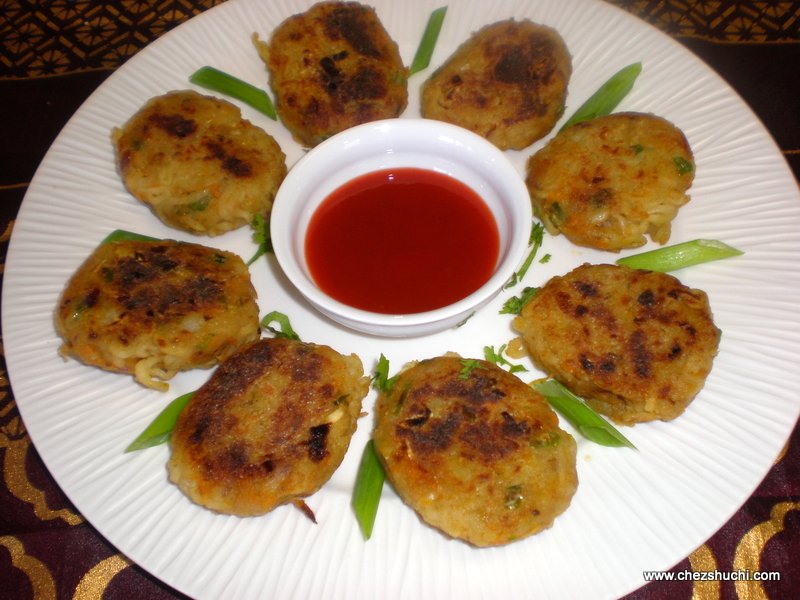 Ingredients (makes 12 cutlets)
Noodles 3 ounce/ 1 small packet
Boiled Potatoes 3 medium
Onion 1 medium
Green chilies 2
Finely chopped Cabbage ½ cups
Grated carrots ½ cups
finely chopped bell pepper(1 small capscium) ¼ cup
Red chili powder ½ tsp
Chaat masala ½ tsp
Garam masala ½ tsp
Salt 1 tsp or to taste
Chopped coriander leaves 2 tbsp
Oil 2 tsp for cutlet mixture + for greasing the pan for cutlet cooking
For serving
Method of preparation:
Boil the noodles as suggested on the noodle packet. Do not overcook the noodles. Leave on the strainer to remove extra water. Wait for 2-3 minutes. Now transfer the noodles in a clean cloth or on a kitchen towel to absorb the extra moisture.
Peel off, wash, and finely chop the onions. Remove the thick stem, wash, and finely chop the green chilies.
Peel, and mash the boiled potatoes.
Heat 2 tsp oil in a non stick wok. Add chopped onions, and green chilies. Fry the onions until translucent.
Add carrots and fry for 1-2 minutes. Now add cabbage, and bell pepper and fry for a couple of minutes on medium heat.
Add red chili powder, chaat masala, garam masala, and salt and mix well. Fry the vegetables for another minute.
Now add mashed potatoes in the above mixture. Mix well.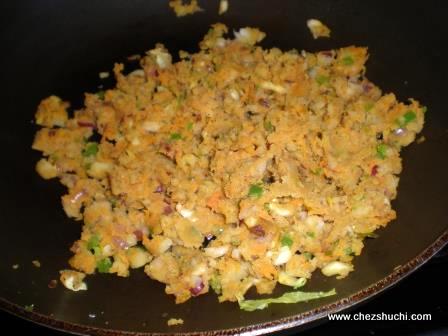 cutlet mixture after adding mashed potatoes
Add boiled noodles. Mix gently. Turn off the heat. Add chopped coriander leaves. Mix and let the mixture cool down.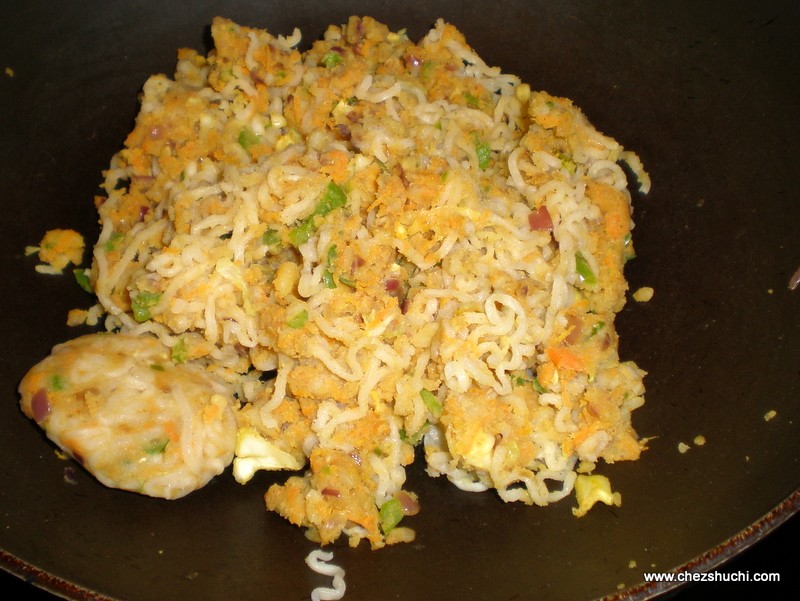 after adding noodles in the cutlet mixture
Make 12 oval noodle cutlets. Keep them in the fridge for 1 hour to set.
Heat a griddle/ tawa. Grease it with a little oil. Cook noodle cutlets from both sides until golden red.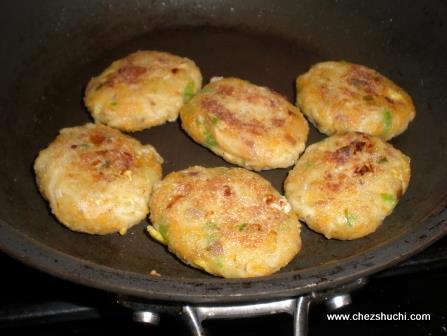 Delicious noodle cutlets are redy to serve. Serve them with tomato ketchup or with sweet chili dip .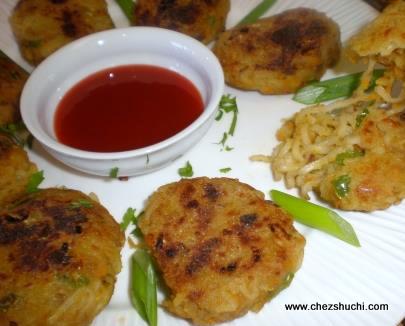 Some Tips/ Suggestions:
These noodle cutlets are very delicious, to cut the amount of fat I have cooked the noodle cutlets in a very little oil but one can shallow or deep fry the noodle cutlets.
You can also grill, bake or barbeque these cutlets.
Make sure to cut the veggies very fine so cutlets don't get break.
You can aslo add 1 tsp soy sauce in the cutlet mixture.
---