Dates And Walnut Burfi
हिन्दी में पढ़ें
Dates and walnut burfi is a very healthy dessert preparation and is very simple to make. I learned this dish from my friend Aparna, and I also admire a similar recipe on Sailaja's blog ( http://sailajasrecipes.blogspot.com ). So on the auspicious day of Janmashtami let's make this delicious Dates and Walnut dessert.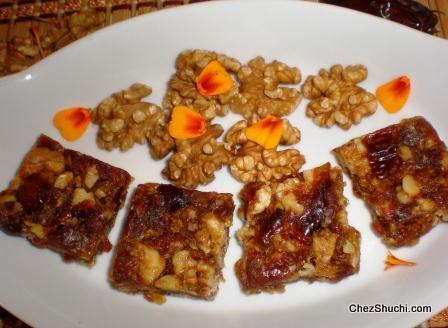 Ingredients

(makes about 14 burfi)
Walnuts ½ cups/ 75 gms
Dates 1 cups/ 175 gms
Ghee few drops to grease the tray
Method of preparation
Grease the tray, plate or a small thali with ghee, and keep aside.
Cut the walnuts into small pieces.
Cut dates into small pieces.
Heat a non stick wok, dry roast the  walnuts for about two minutes on medium heat. Take them out and keep aside.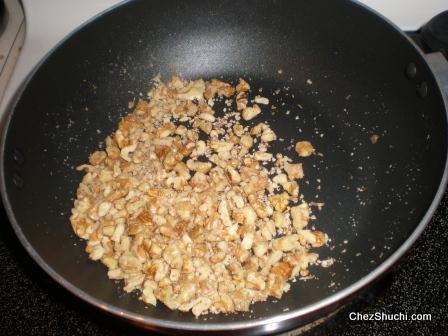 Now in the same wok fry dates on medium heat. Dates will start melting in couple of minutes. When dates melt add roasted walnuts and continously stir for a couple of minutes. Walnut pieces will start sticking in the melted dates.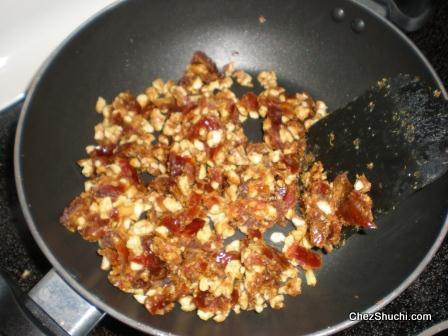 Turn off the heat and set the mixture on the greased tray. Let the mixture cool down, takes about 8-10 minutes.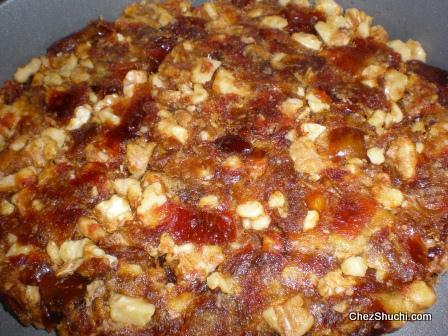 Cut the dates and walnut burfi in required shape.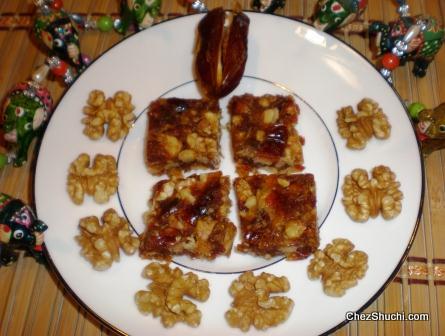 Delicious dates and walnut burfi is ready for bhog/serving .
Some tips and Suggestions:
The burfi can be stored in an airtight container for a week.
You can also add some other nuts of your taste.
Use oil instead of ghee if you want to make vegan burfi.
---