Chutney ke Aloo
हिन्दी में पढ़ें
Chutney ke aloo is very North Indian dish. This is a very popular chaat item from Kanpur. Small boiled potatoes soaked in spicy coriander chutney - that's all it is, sounds so simple; yet very pungent and yummyyyyyy.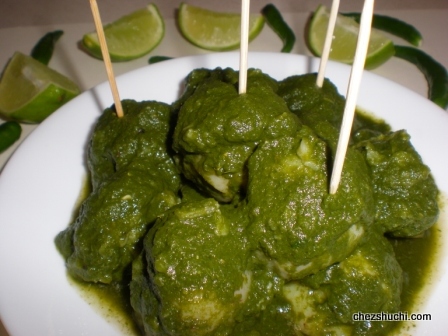 Ingredients

(serves 4)

Green chili 1
Chaat masala 1 tsp
Black pepper little bit
Lemon juice 1 tbsp
Yogurt 1 tbsp   

Method of preparation
Boil the potatoes. Let them cool down. Now peel off the potatoes and cut them into halves.
Remove the stem, wash, and finely chop the green chilies.
In a glass bowl take coriander chutney and mix all the other ingredients very well . Now add potatoes. Mix well gently but  thoroughly .
Chutney ke aloo are ready to serve.
This is a quick chaat recipe - very delicious. Enjoy this hot delicacy from Kanpur in cold winter afternoons.
---